Ansbro, Eamonn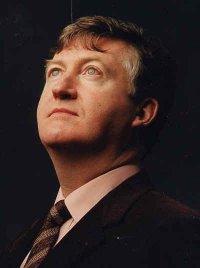 Eamonn Ansbro is an English-born amateur astronomer and professional instrument-maker who has a special interest in searching for signs of extraterrestrial intelligence within the Solar System (see SETA and SETV). Ansbro set up the Kingsland Observatory, near Boyle in County Roscommon, Ireland, for studies in optical SETI (OSETI) – in particular, to search for near-Earth extraterrestrial probes and optical signatures possibly associated with earthlight activity at Hessdalen, Norway. The Kingland equipment includes reflectors of five, sixteen and thirty-six inches, with the latter two also being fitted with specialized CCD cameras.
Ansbro has over 30 years experience in science and engineering, including astronomy, meteorology, and industrial optics. He is a Fellow of the Royal Astronomical Society and a past Vice President of the International Union of Amateur Astronomers. His scientific accomplishments include discoveries of a hydrogen envelope around the rings of Saturn (1974), a moonquake (1975), and a nova (1976). In 1981 he founded Optiglas Ireland Ltd., which developed and manufactured advanced optical systems that were exported to 15 countries. He has written and published over 40 articles and papers about astronomy and space.1
Reference
1. Ansbro, E., and Overhauser, C. "SETV: Opportunity for European Initiative in the Search for Extraterrestrial Intelligence," First European Workshop on Exo/Astrobiology ESA, Frascati, Italy, 21-23 May, 2001. ESA SP-496, pp. 285-288. Expanded abstract in Astrobiology 1(2) 2001.