moons of Jupiter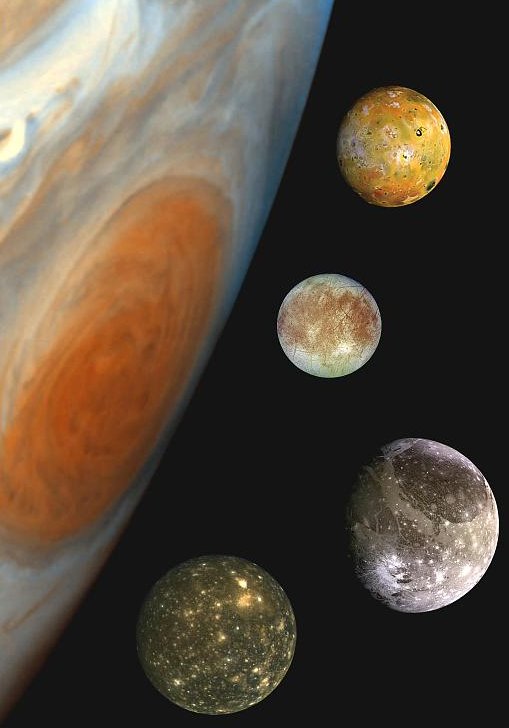 A montage, to scale, of the four largest moons of Jupiter and Jupiter's Great Red Spot.
The largest planet in the solar system, Jupiter, has 63 known satellites. With one exception – Themisto – these moons fall into four major groups. The inner group of Metis, Adrastea, Amalthea, and Thebe are small- to medium-sized, orbit in nearly-circular paths at less than 200,000 kilometers, and were discovered as a result of images sent back by the Voyager probes. The Galilean moons, Io, Europa, Ganymede, and Callisto, have orbital radii of 400,000–2,000,000 kilometers and are among the largest satellites in the Solar System. The third group includes Leda, Himalia, Lysithea, and Elara, which were discovered in the twentiethth century but pre-Voyager, and S/2000 J11; all have diameters of less than 200 kilometers and orbits of 11 to 13 million kilometers with inclinations of 26–29°. The fourth group, composed of several subgroups, includes four moons, Ananke, Carme, Pasiphae, and Sinope, whose twentieth-century discovery predates Voyager, plus many others found recently; all, with the exception of Pasiphae, have diameters of less than 50 kilometers and high-inclination, retrograde orbits with radii of 19 to 30 million kilometers. It is thought that the three groups of smaller moons may each have a common origin, perhaps as a larger moon or captured body that broke up into the existing moons of each group.
All Jupiter's moons are tidally locked with the planet so that their rotational periods and orbital periods are the same. All the known moons beyond Carpo move in retrograde orbits. For further details on some of the moons that have been given proper names, see individual entries (click on the names in the table below). They are listed in order of increasing distance from the planet.
The values of semimajor axis and orbital period, eccentricity, and inclination, for all the moons of Jupiter beyond and including Themisto were obtained from the Natural Satellites Empheris Service of the IAU Minor Planet Center (http://cfa-www.harvard.edu/iau/mpc.html).
moon
semimajor
axis (km)
orbital period
(days)
orbital
eccentricity
orbital
incl. (°)
diameter
(km)
Metis
127,690
0.2948
0.00002
0.06
60×40×34
Adrastea
128,690
0.2983
0.0015
0.03
20×16×14
Amalthea
181,370
0.4982
0.0032
0.374
250×146×128
Thebe
221,890
0.6745
0.0175
1.076
116×98×84
Io
421,700
1.769
0.0041
0.050
3,643
Europa
671,030
3.551
0.0094
0.471
3,122
Ganymede
1,070,410
7.155
0.0011
0.204
5,262
Callisto
1,882,710
16.69
0.0074
0.205
4,821
Themisto
7,393,220
129.87
0.2116
45.762
8
Leda
11,098,500
238.86
0.1801
27.376
10
Himalia
11,377,500
247.93
0.1361
29.872
170
Lysithea
11,756,000
260.40
0.1277
26.600
36
Elara
11,763,800
260.66
0.1948
30.646
86
S/2000 J11
12,570,600
287.93
0.2058
27.584
4
Carpo
17,144,900
458.62
0.2736
56.001
3
S/2003 J12
17,739,500
-482.69 (r)
0.4449
142.686
1
Euporie
19,088,400
-538.78 (r)
0.0960
144.694
2
S/2003 J3
19,621,800
-561.52 (r)
0.2507
146.363
2
S/2003 J18
19,812,600
-569.73 (r)
0.1570
147.401
2
Ananke
20,439,100
-596.96 (r)
0.3121
150.187
28
Thelxinoe
20,453,800
-597.61 (r)
0.2685
151.293
2
Euanthe
20,464,900
-598.09 (r)
0.2001
143.409
3
Helike
20,540,300
-601.40 (r)
0.1375
154.587
4
Orthosie
20,568,000
-602.62 (r)
0.2433
142.367
2
Iocaste
20,722,600
-609.43 (r)
0.2874
147.249
5
S/2003 J16
20,743,800
-610.36 (r)
0.3185
150.769
2
Praxidike
20,823,900
-613.90 (r)
0.1840
144.206
7
Harpalyke
21,063,800
-624.54 (r)
0.2441
147.224
4
Mneme
21,129,800
-627.48 (r)
0.3169
149.733
2
Hermippe
21,182,100
-629.81 (r)
0.2290
151.242
4
Thyone
21,405,600
-639.80 (r)
0.2526
147.276
4
S/2003 J17
22,134,300
-672.75 (r)
0.2379
162.491
2
Aitne
22,285,200
-679.64 (r)
0.3927
165.563
3
Kale
22,409,200
-685.32 (r)
0.2011
165.379
2
Taygete
22,438,600
-686.67 (r)
0.3678
164.890
5
S/2003 J19
22,709,100
-699.12 (r)
0.1961
164.728
2
Chaldene
22,713,400
-699.33 (r)
0.2916
167.071
4
S/2003 J15
22,721,000
-699.68 (r)
0.0932
141.813
2
S/2003 J10
22,730,800
-700.13 (r)
0.3439
163.813
2
S/2003 J23
22,739,700
-700.54 (r)
0.3931
148.850
2
Pasiphaë
22,928,200
-709.27 (r)
0.2914
144.292
60
Erinome
22,986,300
-711.96 (r)
0.2552
163.738
3
Aoede
23,044,200
-714.66 (r)
0.6012
160.482
4
Kallichore
23,111,800
-717.81 (r)
0.2042
164.605
2
Kalyke
23,180,800
-721.02 (r)
0.2140
165.505
5
Callirrhoe
23,215,000
-722.62 (r)
0.2582
139.850
9
Eurydome
23,230,900
-723.36 (r)
0.3770
149.324
3
Pasithee
23,307,300
-726.93 (r)
0.3289
165.759
2
Carme
22,371,300
-683.58 (r)
0.2593
165.943
46
Cyllene
23,396,300
-731.10 (r)
0.4116
140.149
2
Eukelade
23,483,700
-735.20 (r)
0.2829
163.996
4
S/2003 J4
23,570,800
-739.29 (r)
0.3003
147.176
2
Hegemone
23,702,500
-745.50 (r)
0.4077
152.506
3
Arche
23,717,100
-746.19 (r)
0.1492
164.587
3
Isonoe
23,800,600
-750.13 (r)
0.1776
165.128
4
S/2003 J9
23,857,800
-752.84 (r)
0.2762
164.980
1
S/2003 J5
23,973,900
-758.34 (r)
0.3071
165.550
4
Sinope
24,130,600
-765.79 (r)
0.1970
155.005
38
Sponde
24,252,600
-771.60 (r)
0.4432
154.373
2
Autonoe
24,264,400
-772.17 (r)
0.3690
151.058
4
Kore
24,345,100
-776.02 (r)
0.1951
137.372
2
Megaclite
24,687,200
-792.44 (r)
0.3078
150.398
5
S/2003 J2
30,290,800
-1077.02 (r)
0.1882
153.521
2
r = retrograde