Klass, Philip J. (1920–2005)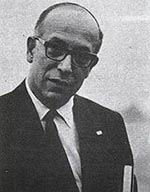 Philip Klass was an American aviation journalist who, in the 1970s, became the foremost critic of ufology, taking over that mantle from Donald Menzel.1 Klass was born in Des Moines and raised in Cedar Rapids, Iowa. After graduating from Iowa State University, he worked for a decade at General Electric as an electrical engineer. He joined Aviation Week in 1952 and later wrote extensively about surveillance satellites for that publication. He was a fellow of the Institute of Electrical and Electronics Engineers and a founder of the Committee for the Scientific Investigation of Claims of the Paranormal (CSICOP).
Klass's first UFO investigation, in 1966, was of the Socorro Incident, a sighting reported two years earlier in New Mexico. He concluded that it had been a hoax perpetrated in an attempt to bring tourism to the economically depressed town. Klass went on to write seven books, including the well-regarded UFOs Explained (1975). He was interviewed on news broadcasts that included the "CBS Evening News" and for TV programs devoted to space phenomena. Klass was reviled as a "disinformer" by ufologists, particularly those who insisted they had been abducted for scientific testing.
Reference
1. Klass, Philip. UFOs Explained. New York: Vintage (1974).