Rocketplane Kistler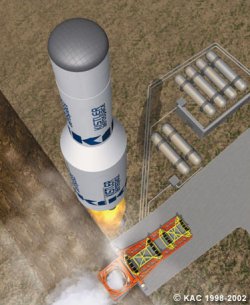 Launch of the K-1, artist's impression.
Rocketplane Kistler is an aerospace company based in Oklahoma City and formed in late 2005 from the merger of Kistler Aerospace Corporation and Rocketplane Ltd Inc. Rocketplane Kistler is the developer of the K-1 fully reusable aerospace vehicle, designed to deliver payloads to orbit and provide a low-cost alternative to single-use launch vehicles.
In August 2006, Rocketplane Kistler and SpaceX were selected by NASA to receive a combined $500 million in funding under the Commercial Orbital Transportation Services (COTS) demonstration program. Rocketplane Kistler's share, amounting to $207 million, is to help complete the K-1 rocket and develop a cargo module that could later be modified to carry astronauts to the International Space Station. Both SpaceX and Rocketplane Kistler are expected to conduct three flight demonstrations before 2010 to prove that they can safely deliver pressurized and unpressurized cargo to the ISS. At that point, NASA intends to conduct a second open competition for service contracts to supply the space station.
Rocketplane Kistler has said it intends the first K-1 flights to be out of Woomera, Australia, but could eventually relocate operations to the US, either in Nevada or Florida's Kennedy Space Center. In 2006, the firm also announced that Orbital Sciences Corporation would take over as the K-1's prime contractor in the event of a COTS win.