Socorro incident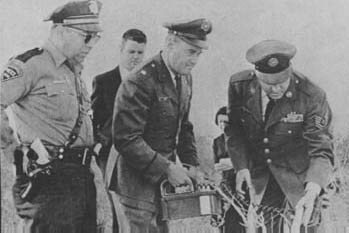 Left to right: Sgt. Lonnie Zamora, Mr. Burns (FBI), Maj. H. Mitchell (AFMDC), Coral Lorenzen of APRO, and Sgt. Castle of the Military Police.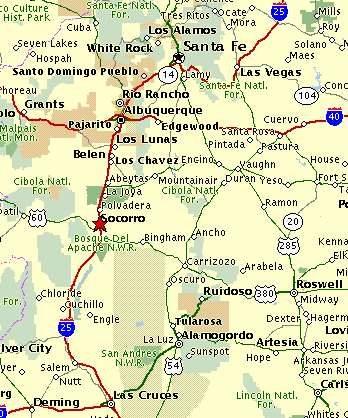 The Socorro incident is one of the most frequently recounted UFO events, since it involved a police witness and heralded the start of the great wave of flying saucer reports of the mid-1960s.
At about 5.45 pm, on Apr 24, 1964, patrolman Sgt. Lonnie Zamora was in pursuit of a speeding motorist south of Socorro, New Mexico, when he heard a brief roar and saw a "flame in the sky" over a mesa less than a mile away. A shack containing dynamite was nearby and, at first, Zamora thought that this had blown up. Abandoning his chase, he drove up a steep road to the mesa top, from which he observed "a shiny object to [the] south" 90 to 180 m (300 to 600 ft) away, below him in a gully. "It looked," Zamora told an FBI agent later that day, "like a car turned upside down." Next to the object were "two people in white coveralls." They seemed "normal in shape – but possibly they were small adults or large kids." Zamora approached to within 30 m of the object and saw that it was smooth and oval, with red insignia on its side, and standing on girder-like legs. Then the roar began again, rising in pitch and growing "very loud." Finally, the UFO moved away in a south-westerly direction "possibly 10 to 15 feet above the ground, and it cleared the dynamite shack by about 3 feet." Two other police officers and the FBI agent arrived on the scene shortly after and found four burn marks, and four V-shaped depressions, 25 to 50 mm (1 to 2 in) deep and roughly 50 cm (18 in) long. In his interview with Zamora, chief Air Force consultant J. Allen Hynek found him "basically sincere, honest, and reliable."
Conclusions and postscript
Project Blue Book finally classified the sighting as an "unknown" and the incident remains unexplained, although its authenticity can be challenged on the grounds that there was only one witness and that a couple in their home only 300 meters (1,000 feet) away from the supposed landing site, saw and heard nothing. Aviation expert and UFO Attention has also been drawn to the fact that the landing site happened to be owned by the town's major who therefore had a vested interest in attracting tourism to the spot. On the other hand, the incident did have an interesting postscript. At about 3.00 am on Apr 26 – two days after the Socorro event – a UFO, identical to that seen by Zamora was reported to have landed some 300 km (about 200 mi) north of Socorro at La Madera, New Mexico. The eye-witnesses to this second event, Orlando Gallego and his family, denied all knowledge of Zamora's sighting. Police reportedly found evidence of burning around the site, and four dents in the ground.
Location of Socorro
Socorro lies in the Rio Grande Valley at an elevation of 1,396 m (4579 ft). It is 141 mi west and north of Roswell, the scene of another famous UFO sighting (see Roswell Incident), 97 mi northwest of Alamogordo (where the first atomic bomb detonation took place in 1945), and 130 mi of south of Los Alamos (the site of a major nuclear research facility). The actress Jodie Foster stayed in Socorro while filming the movie Contact at the Very Large Array 50 mi west of the city.