SpaceX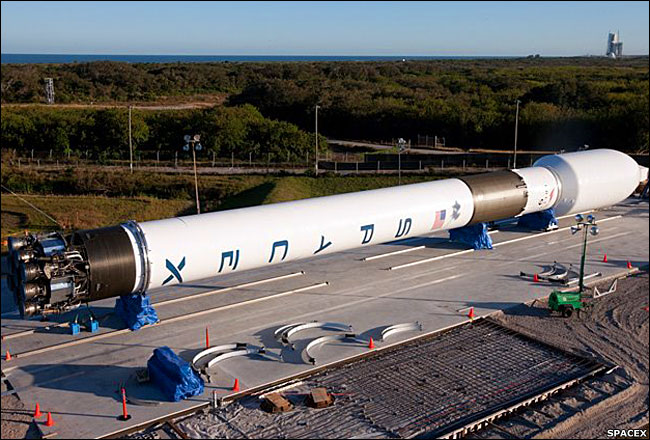 The SpaceX Falcon 9 heavy-lift launch vehicle which achieved a successful maiden launch from Cape Canaveral in June 2010. This rocket could soon be servicing the space station, as well as lofting commercial satellites. Image: SpaceX.
SpaceX (Space Exploration Technologies Corporation) is an aerospace company that develops and manufactures the Falcon family (see Falcon 1 and Falcon 9) of launch vehicles and the Dragon spacecraft with a stated goal to reduce the cost and increase the reliability of access to space. SpaceX was founded in 2002 by South African born entrepreneur Elon Musk and has its headquarters in Hawthorne, California.
Significant milestones
In August 2006, NASA announced that it would be give a combined total of about $500 million to SpaceX and Rocketplane Kistler to help fund the development of reliable, cost-effective access to low-Earth orbit and, in particular, to demonstrate the vehicles, systems, and operations needed to support a human facility such as the International Space Station. Payments to each company were to be incremental and based upon the partners' progress against a schedule of agreed performance milestones.
On December 8, 2010, SpaceX successfully launched its Dragon capsule atop a Falcon 9 from Cape Canaveral. The craft separated about 10 min after launch, reaching its 300-km-high orbit shortly after. After completing several maneuvers in orbit, the capsule splashed down in the Pacific. SpaceX thus became the first private launch company to place a vehicle in Earth orbit. In May 2012, a Dragon capsule became the first commercial spacecraft to dock with the ISS before returning to a successful splashdown on Earth.
In August 2012, NASA announced that it would be giving further funding of $440 million to progress the design of the Dragon capsule to include life-support systems and develop a safety system so that the capsule could return to Earth in the event of a failure of its Falcon launch vehicle. At the same time NASA also announced that it would provide further funding to two other aerospace companies – Sierra Nevada and Boeing – to develop their manned spacecraft, known as Dream Chaser and CST-100 (see Boeing), respectively.