wind turbine UFO
Damaged wind turbine at Conisholme, Lincolnshire.
In the early hours of Sunday, January 4, 2009, a wind turbine on a wind farm in Conisholme, near Grainsthorpe, Lincolnshire, England, was damaged under unusual (and still unexplained) circumstances. The turbine lost one 20-meter (66-foot) blade and had another badly damaged. The turbine is one of 20 at the site; the broken blade was later recovered and is being examined. British UFOlogists have claimed that an unidentified aerial vehicle was to blame.
Local residents spoke of mysterious lights in the air around the same time. County councilor for the area Robert Palmer said he had seen a "round, white light that seemed to be hovering". Russ Kellett, of the Flying Saucer Bureau, said witnesses had reported various signs of unusual activity in the area. "One saw what they at first thought was a low-flying aircraft on the Saturday evening and another heard a loud banging in the early hours of Sunday," he said. "This is the second most reports of activity we have ever had – I have had over 30 phone calls and emails. To hit two of the blades, any object must have been about 170 feet long."
Ecotricity, which owns the site, said while investigations continued they were not ruling anything out but that the extent of damage was "unique". Other experts put forward explanations more mundane than a UFO of the flying saucer variety. Much would depend on whether the turbine blades were stationary or rotating at the time of the incident. If stationary, it might take the equivalent of a 10-ton object to cause the kind of damage seen, but if the blades were rotating, or hit by a moving object, the force required could be much less. One possible culprit could be a block of ice thrown from a neighboring turbine that struck it. But the mystery, for the moment, remains.
On-line press articles about the Conisholme "UFO"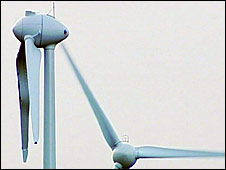 Close-up of the damaged blades
---
Inquiry launched into 'UFO attack' on turbine
An investigation was under way today into how a 65-foot blade was mysteriously torn off a wind turbine amid reports of "strange lights" in the sky. The 300-foot turbine at Conisholme in Lincolnshire was left wrecked after the incident. Source: The Times
UFOs spotted 'by hundreds' at wind turbine site
Residents claimed to have seen bright flashing spheres in the skies near Louth, Lincolnshire, where the 290-foot turbine was mangled in a mystery collision. Ministry of Defence insiders have reportedly said the UFOs could be unmanned stealth bombers on test flights. The black delta-wing craft, called Taranis, is understood to have been making test runs on the coastal bombing ranges at Donna Nook and North Coates, which are right next to the site of the wrecked wind turbine. Source: Daily Telegraph
UFO hits wind turbine
A wind turbine stood wrecked yesterday with one of its giant 65-foot blades torn off – after it was hit by a UFO. Locals were woken by the 4am smash after strange lights were spotted streaking towards the 290-foot-tall generator on a wind farm. Baffled power chiefs said of the smash in Conisholme, Lincs: "We have a team investigating." There was no trace of the missing blade. A UFO expert said: "We are very excited." Source: The Sun