Arkiane stoves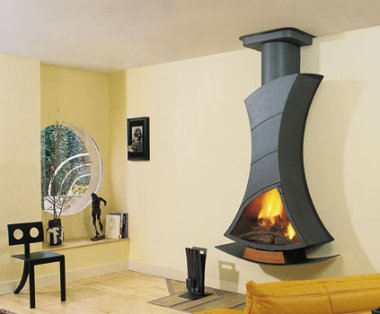 Arkiane is a French company that manufactures possibly the most futuristic-looking and ingenious wood-burning stoves on the planet. The Oxalis model, for example, illustrated here, has a shaped glass door that can be unhinged and kept on the accessory stand, so that at any time it can be run as an open fire.
Other models on offer include the Fayko, Gaia, Sesame, Soio, Yoni, and the extraordinary, pyramid-shaped Kephren.
The Kephren stove can sit in the middle of a room with a blazing fire inside its four glass covered walls yet without any sign of a chimney. The secret lies in the tubes hidden in the stove's cover tiles, which draw the smoke out and down to an assisted flue that runs horizontally, either beneath the floor or platform, to the outside wall where it joins a vertical flue. The Kephren is capable of giving up to 12 kilowatts of heat from burning wood and is refuelled simply by tilting the pyramid up to give access to the fire. It can also be run as an open fire with the pyramid left tilted partially open.