acoustical tile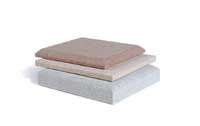 An acoustical tile is a special tile for walls and ceilings made of mineral, wood, vegetable fibers, cork, or metal. Its purpose is to control sound volume, while providing cover. The sound deadening properties of the tiles depends upon the thickness, density, and volume of the individual panels. Most acoustical ceiling panels are made from spun mineral wool fiber bound together with starch which is often mixed with pigmented clay paints. As a rule, the greater amount of fibers in the panel, the more sound it can absorb.
Acoustical tiles are available in dozens of different textures and styles, and three different profiles: square edge, notched edge, and, most attractive, beveled notched edge. As an alternative to the traditional metal grid systems, interlocking tiles can be purchased that staple to wood furring strips, which are typically spaced at 12-inch intervals.
Care is need when choosing ceiling tiles for sound-proofing because some may look very similar in style and pattern to acoustical tiles without having their special property. Avoid problems by carefully checking labels and product literature.