aerosol duct sealing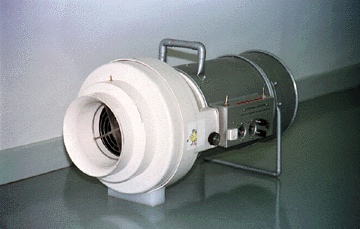 Aerosol duct sealer.
Image: Lawrence Berkeley National Laboratory.
Aerosol duct sealing is a method for internally sealing heating and cooling ducts using a pressurized aerosol sealant. Developed at Lawrence Berkeley National Laboratory, in California, it can reduce duct leakage by up to 90% and cut energy use by up to 30%. It can also be used on existing homes without moving attic insulation or removing wall and ceiling finishes to gain access to ducts.
Aerosol duct sealing forces vinyl acetate adhesive particles into heating and cooling duct systems via specialized equipment. The adhesive particles are kept suspended by the airflow until they naturally try to exit the duct system through leaks. In the process, particles are flung against the holes where they adhere and build up until the leak is closed. Aerosol sealing is not recommended for gaps larger than 1/4-inch. Savings tend to be greater when air ducts pass through space outside the insulation envelope, such as through attics or crawlspaces.
Aerosol duct sealing uses specialized equipment and must be done professionally. Berkeley Lab has granted an exclusive license to Carrier Aeroseal, LLC. to use its aerosol adhesion technology to seal HVAC systems in residential and commercial buildings. The estimated cost for aerosol duct sealing is $300 to $600 per home, which will typically be recouped within one to three years of installation.
How it is done
The initial step in aerosol sealing is to temporarily seal all supply and return registers with tape, as well as junctions between register boots and wall or floor surfaces. The air handler also is sealed to stop the adhesive particles depositing on the heat exchangers. A large plastic tube is then attached to connect the blower to the duct system at the return or supply plenum.
Before aerosol sealing, the ducts are tested to determine the leakage volume. The ducts are then pressurized and aerosol is dispersed by the blower until the sealing is complete (about an hour in most homes). Aerosol sealing is permanent, and accelerated aging tests show it does not degrade over time.