aviation snips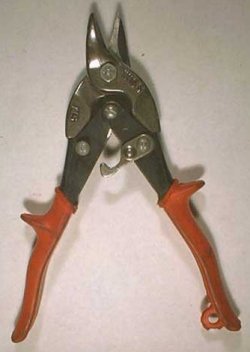 Aviation snips are hand shears specifically suited to cutting curves and irregular shapes from light gauge (16 and up) sheet metal and plastic material. They are also ideal for cutting inside circles and inside corners.
All aviation snips cut straight lines, but some are intended specifically for cutting either right-hand or left-hand curves. (The "hand" of the snips refers to the side of the blade that the waste stock falls to.) Grips are color-coded: yellow for a tool that makes combination cuts, red for left-hand curves, and green for right-hand curves. Aviation snips are generally available in a length of 10 inches.
Using aviation snips to cut sheet metal takes less effort than using tin snips for the same task: a compound lever mechanism gives more control with less hand pressure. The serrated jaws prevent slippage and withstand heavy use. Lugs on the handles help protect your hands from being cut. A metal latch on the side of the tool holds the jaws closed when the snips are not in use.
Aviation snips are used in applications which include HVAC installation and repair; exterior remodeling industry (roofing, siding, gutter, and down spout installation and repair; metal building construction; RV/motor home/trailer manufacturing; auto body repair; and general sheet metal cutting.