bermed earth-sheltered home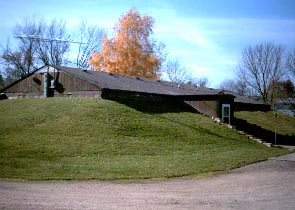 Earth bermed house in Illinois.
Photo credit: Steve Veeneman.
A bermed earth-sheltered home is type of earth-sheltered home, built above grade or partially below grade, which has outside earth surrounding one or more walls. Such a structure can accommodate more conventional earth-sheltered house designs, such as elevational and penetrational.
Elevational design
Elevational plans expose one whole face of the house and cover the other sides, and perhaps the roof, with earth. The covered sides protect and insulate the house. The exposed front of the house, usually facing south, allows the sun to light and heat the interior. The floor plan is arranged so common areas and bedrooms share light and heat from the southern exposure.
This type of house may be placed at varying depths below ground level and is usually set into the side of a hill. The view provided will be one of landscape, rather than open sky, as in the atrium design. A structure designed in this way can be the least expensive and simplest to build of all earth-sheltered structures.
The elevational design may have limited internal air circulation and reduced daylight in the northern portions of the house, though there are ways to alleviate these problems by using skylights. The wide design of the house can be offset by close attention to architectural details, landscaping, and exterior materials.
Penetrational design
In a penetrational design, earth covers the entire house, except where it is retained for windows and doors. The house is usually built at ground level, and earth is built up (or bermed) around and on top of it. This design allows cross-ventilation opportunities and access to natural light from more than one side of the house.