building materials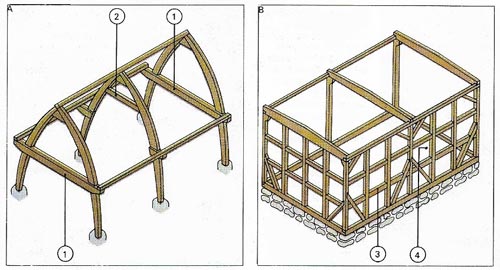 Fig 1. Timber was the main structural material used to build a small houses in the forested areas of Europe from the Stone Age to the 1700s. Cruck constructions (A) were formed by arched timbers which supported the roof and walls. Horizontal beams (1, 2) formed trusses to take the weight. The box frame (B) had added rails (3) and studs (vertical timbers) (4). These helped to stiffen the structure and provided attachment points for cladding.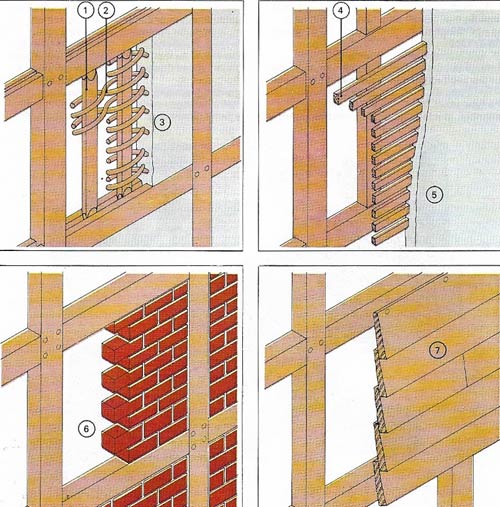 Fig 2. In frame walls the space between the timber frames can be filled by timber staves (1) surrounded by wattle (2) and covered by daub and plaster (3); or timber laths (4) covered by plaster (5); or with brick nogging (6). The frame can also be covered with weatherboard or clapboard (7). In Europe, timber was soon eclipsed as the principal material for frame structures. In the early 19th century, the development of rolled iron and steel girders enabled builders to construct larger buildings. At about the same time, glass was being made into large sheets and by the close of the century reinforced concrete was in use. Innovations and improvements in timber technology in the second half of the 20th century – notably better methods of connecting beams by using metal plates and improved methods of lamination – have reopened the possibilities of its use for making frames.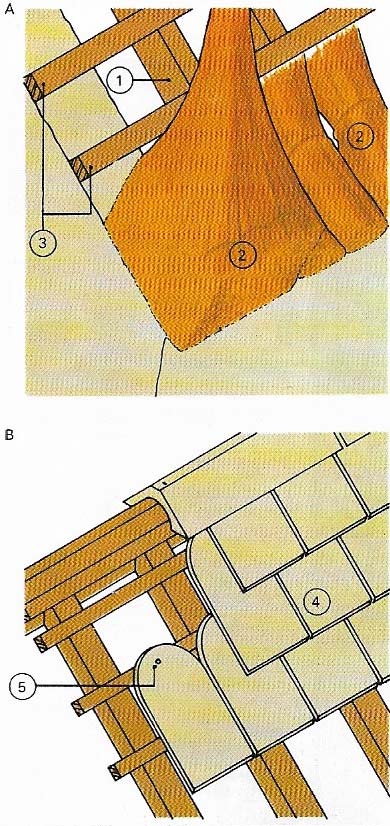 Fig 3. Thatching (A) is a roofing technique that involves covering rafters (1) with straw layers (2) vertically fixed to horizontal battens (3). There is no crossing or weaving, though hazel rods may be used to secure the thatch on a straw roof. Chief materials used are straw and reeds. Stone tiles [4] could also be used, with round tops and a peghole (5) for securing them to battens (B). Regional and economic conditions have influenced building, particularly since earlier times when transport was difficult, slow and expensive. As it became more efficient, manufactured goods were applied over a wider area. Where slate was available, it was used; if not, then clay tiles were made. With the new rail systems, slate came into use in the countryside and other materials, usually reserved for one area, become readily available almost everywhere.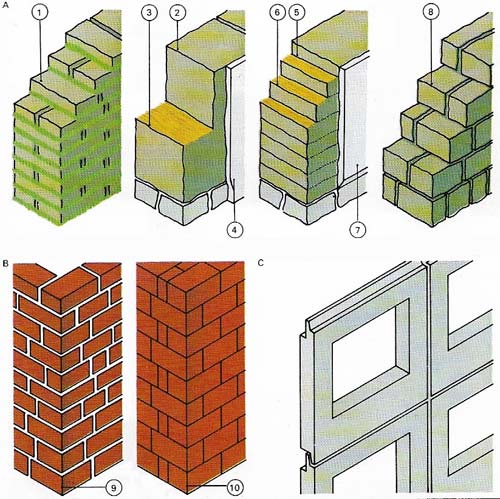 Fig 4. Walls may be built of a wide variety of materials (A) including a mixture of sods of turf (1) and thick clay mixed with pebbles (2) linked together with straw (3) and then faced with a plaster coating (4). Alternatively there may be thin clay layers (5) linked with straw (6) and faced with a plaster coating (7) or a wall built of clay "lumps" (8) like bricks but unburnt. They are generally sun dried, like adobe. True burnt brick walls (B) may resemble the early irregular brick (9) or be like the standardized brick laid in what is known as English bond (10). Walls may also be made of precast concrete sections (C). Other materials used for walls include stone in a wide variety of presentations using regular or unusually shaped stones, sometimes backed by brick and faced with plaster.
Fig 5. Standardization in building makes use of basic units that can be assembled in various ways in order to provide flexibility in design. The idea was pioneered by Walter Gropius (1883–1969), the German architect who founded the Bauhaus school of architecture in 1919. His own house was one of four residences for the teaching staff, sited among the trees of the Bauhaus school in Dessau, Germany. These buildings illustrate Gropius's theory of standardization. The houses are built of similar slag concrete blocks, with the walls as the main supporting elements. His own two-storey house is basically L-shaped with terraces at different levels. The external appearance of the building was as important to Gropius as the functional planning of the interior.
One of man's basic needs is shelter from the natural elements. Primitive man met this need by dwelling in caves and then his descendants began to construct buildings. Key factors in the design of these shelters were the climate and the materials available. For example, in hot, dry countries, houses with tiny windows and thick walls of mud were built to keep out the heat and sunlight; in rainy climates people normally built sloping roofs of grass and rushes, so that the rain ran off the house without penetrating the interior; in earthquake areas, houses were built of light materials – in Japan some internal walls are still made of paper.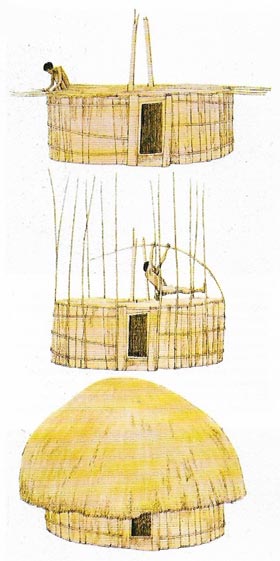 A complex house belonging to a woman of the Dani tribe, who live in the forests of New Guinea, illustrates the use of traditional materials. It is made with tools of stone, wood, bamboo, and bone. It has a lower room and a sleeping loft; the lower room has wooden walls and a tall doorway. The dome is made with saplings, which form the frame of the whole house, bent over and attached to the center posts. Then the house is covered with long grass thatch made by the men. The sleeping area in the roof has a reed floor, but it is provided with a hearth on a mud base to keep people warm at night. Grass is trimmed and prepared for use with a stone adze, a primitive tool rather like an axe with an arched blade mounted at right-angles to the handle. Vines are used to lash the building together.
Building with timber
Originally an ancient building material, timber (Fig 1) is now being applied to major structures, although its widest use is still in house building. Improved design techniques and treatments now overcome many weaknesses. The strength of timber is different along and across the grain, so it is made more uniform by using adhesives to bond multiple layers with the grain running in various directions. Durability is improved by better methods of preservation and the timber is treated so that it does not burn readily. Devices for joining timber structures have also been improved, notably metal plate connectors with multiple projecting teeth, which spread the load over a wide area.
Timber is now used to make fully prefabricated houses, which are factory finished and ready for erection on a firm base. More extensively it is used for joists, rafters, window frames, doors, floors and studding (Fig 2) for internal non-load-bearing walls which are to be faced with plasterboard. Timber also has appeal for conservationists because it is renewable – we can plant more trees – and its manufacture into a usable form involves no pollution of the environment.
Building with stone and brick
Natural stone is still used for building, although it has taken on a comparatively minor role in industrialized countries, being confined mainly to facings and other decorative finishes. Stone is obtained from quarries by blasting or splitting with wedges. If, like limestone, it is layered, it must be used in such a position that its layers lie at right-angles to the direction of pressure.
Fired bricks are much used for houses in developed countries. Their size and type are governed by national standards and there is a move to set up international standards. The size and proportions are broadly chosen so that a bricklayer can hold a brick using only one hand and the brick can bond with others lying both parallel and at right-angles to the wall face. Despite standardizations, there is still a wide range of bricks to choose from in terms of appearance, strength and durability.
Most bricks are made from clay or shale and are "burnt" in a kiln. However, some are made of silica sand and lime and these are known as calcium silicate bricks. Building blocks are a little larger than bricks and are generally made of concrete.
Building with concrete
Most people think of concrete as a modern material, but its history begins with the Romans, who used it to build their aqueducts and amphitheaters. Another common misconception is that concrete is used only in the construction of large buildings (apart from foundations). Concrete is a mixture of water, stone and sand with a binder (usually Portland cement). Today an industry has grown up that precasts concrete into forms suitable for house walls and roofs, as well as for applications in bigger buildings. When a set of moulds is made for this purpose, the process is called "battery casting". A recent extension of this idea is a system of battery casting concrete panels for rapid building of dwellings in developing countries. They can be set up on site without the need for factories to process them. A "package" is supplied consisting of a vertical battery unit for casting, a transporter vehicle, a tower crane and accessories that enable a sub-contractor to construct medium-sized blocks of apartments at a rate of one per day. The basic design is standard, but even so the system gives great architectural and planning flexibility using only a few units. These units can be assembled in various ways, according to the needs and styles of the individual community or country.
Other composite materials are gaining importance in building homes. In essence they are well established; for example, the old wattle (interlaced rods and twigs) and daub of mud or clay. A modern form used in house building is glass-reinforced polyester resin. Panels of this material are themselves composites; they are applied to timber framing and act with the frame to give so-called "racking resistance", which prevents distortion of the frame. Similarly internal walls may be composites of timber frames or metal frames fitted with honeycombs of metal strips, in both cases faced with plasterboard.
So far, few plastics have been used as structural materials, although they are widely used for a variety of accessory roles in buildings. These include panels, gutters and their supports, drainpipes and decorative ceilings. Water can be stored in plastic tanks and led through plastic pipes. Foamed plastics can be injected into cavity walls to improve thermal insulation. Some designers have built experimental all-plastic houses, but these have not yet been commercially successful because they are too expensive.