combination pliers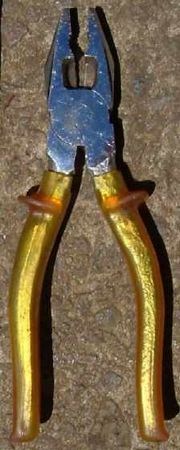 Combination pliers are heavy-duty, side-cutting pliers, also known as lineman pliers or side cutters, which are designed for all regular wire-cutting needs. They have gripping jaws, a cutting edge, and insulating handle grips that reduce (but don't eliminate) the risk of electric shock from contact with live wires. This combination of features makes for a versatile tool found in every electrician's and home tool kit.
The wedged jaws provide a non-slip grip for holding and bending small objects and the grip is made strong by the hook bend in both handles. The cutting edge, which is really a breaking edge since it is not sharp like a knife-edge, can cut through heavy or large-gauge wire. Finally, this type of pliers is heavy and tough enough to be used as small hammer for use with a chisel or screwdriver, or to pound in various types of hardware, especially staples and small nails.
Combination pliers are typically machined from forged steel. The two handles are precisely joined with a heavy-duty rivet that maintains the pliers' accuracy even after repeated use under extreme force on heavy-gauge wire, and even use as a hammer.
Some versions include either an additional gripping or crimping device at the crux of the handle side of the pliers' joint. High-leverage combination pliers have rivet placed closer to the cutting edges to provide more leverage.