earth-sheltered home topography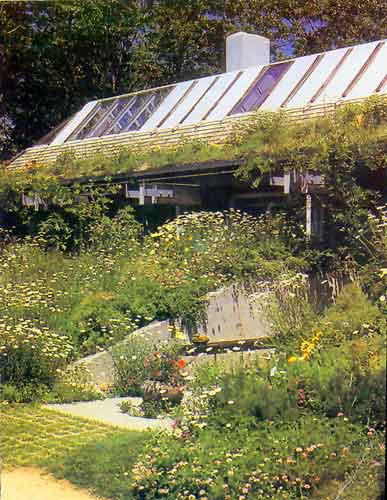 Earth-solar home on Cape Cod.
The topography of a building site can affect the design of an earth-sheltered building in a number of ways. Changes in terrain can directly affect the wind patterns and temperature around a building and certainly has a great impact on patterns of water runoff. However, the single most important effect of topography on an earth-sheltered design is simply whether a site is flat or sloped and the degree and orientation of any slope. Since window openings are required by building codes and desirable for light and view, it can be assumed that earth-sheltered houses are likely to be at least partially exposed to the outdoors.
On a predominantly flat site, a fully or semi-recessed design is possible, usually limited to one level below grade. A flat site may be used for a two-level earth-covered design, but a great deal of fill may be required depending, of course, on the specific design. A sloping site offers the opportunity to set an earth-covered space into the hillside. However, the orientation of the window wall is then determined by the direction of the hillside. It is generally more desirable to work with a site sloping downward to the south, but it may be necessary to compromise maximum solar exposure on some sites. Also, a relatively steeply sloping site is more easily adaptable to a design with two levels of earth-covered space. There are some significant energy savings with a two-level design.