rotary hammer drill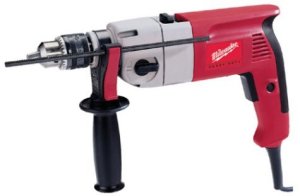 A rotary hammer drill is a handheld power tool used to cut quickly into concrete, stone, cement block, or brick. A rotary hammer drill, also known as a hammer drill, roto hammer drill, or masonry drill, uses a weight to create the impact force on the carbide-tipped masonry bit. The hammering action provides a short, fast hammer thrust to pulverize relatively brittle material and provide quicker drilling with less effort. Generally, the drill chuck of the rotary hammer drill is designed to hold SDS drill bits. Most models allow the hammer and rotation functions to be used separately or in combination. With the drill-only mode selected, these units can be used to drill and ream wood, steel, and other non-masonry materials. Some units, when the hammer-only mode, will accommodate chisel and scraper attachments.

Depending on the manufacturer, hammer-drills range from very low speeds for controlled, fine drilling and impacting to high-speed drilling and hammering for fast, productive work. Some have variable speed controls. Chuck sizes range from 1/4" to 1/2".

Lower power units are usually called hammer drills. Higher power units, which supply bigger impact forces and can be used with larger drills, are usually called rotary hammers.