slip-joint pliers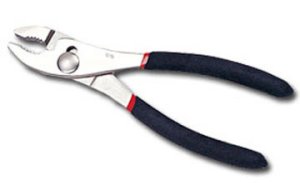 Slip-joint pliers are pliers that have both serrated teeth and coarse contoured teeth to grip objects of different shapes. They also have jaws that can be adjusted, or slipped, to handle objects of various sizes. Slip-joint pliers are also known as adjustable pliers. They are most commonly available in 6- and 8-inch sizes.
There are two jaw settings: one for small materials and one for larger materials. The width of the jaw opening is increased by spreading the handles and then sliding the slotted handle along the pivot post. The handles are then closed to lock the setting.
Thin-jaw slip-joint pliers work in the same way but have a slim nose that allows them to reach into tight places.