tenon saw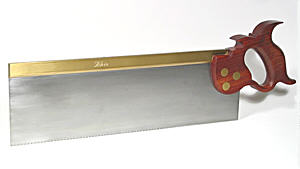 Hand-made tenon saw by Adria Tools.
The tenon saw is the commonest type of back saw. The tenon saw is a midsized saw that gets its name from its use in cutting tenons for mortise and tenon joinery. Like all back saws it has a stiffening cap over the top edge of the blade, which prevents flexing of the blade and provides good control when cutting.
Tenon saws are available with rip-filed teeth for rip cutting and cross-cut for cutting across the grain. The teeth are quite fine – 13 teeth per inch (tpi) being typical.
To use a tenon saw properly, the index finger is placed along the side to steady the tool.