underground earth-sheltered home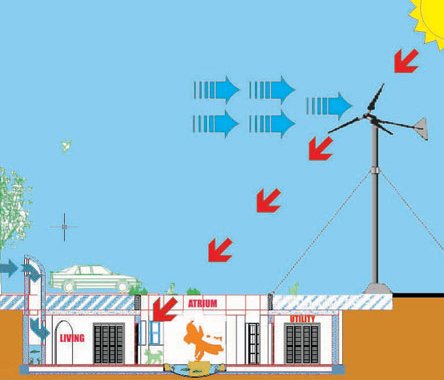 Earth-sheltered atrium home. Design by Ferid Abbasher.
An underground earth-sheltered home is a type of earth-sheltered home which is built below grade, completely underground, or into the slope of a hill.
Atrium or courtyard design
An earth-covered dwelling may have as little as 0.2 meters (6–8 inches) of sod or as much as 2.7 meters (9 feet) of earth covering the structure. An atrium design offers an open feeling because it has four walls that give exposure to daylight. This design uses a subgrade open area as the entry and focal point of the house.
The house is built completely below ground on a flat site, and the major living spaces surround a central outdoor courtyard. The windows and glass doors that are on the exposed walls facing the atrium provide light, solar heat, outside views, and access via a stairway from the ground level. Atrium/courtyard homes are usually covered with less than 0.9 meters (3 feet) of earth primarily because greater depths do not improve energy efficiency. This style also offers the potential for natural ventilation.
The atrium design is hardly visible from ground level and barely interrupts the landscape. It also provides good protection from winter winds and offers a private outdoor space. This design is ideal for an area without scenic exterior views, in dense developments, and on sites in noisy areas. Passive solar gain – heat obtained through windows – might be more limited, due to the window position in an atrium plan. Courtyard drainage and snow removal are important items to consider in design.