wall insulation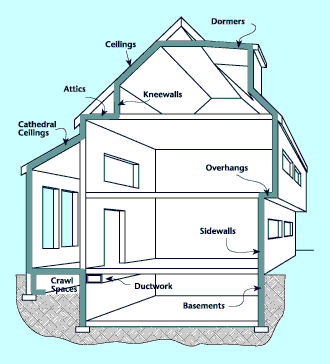 Key areas needing wall insulation.
Properly insulated exterior walls in your house will not only increase comfort but also help you save on heating and cooling costs. For energy savings, you can add insulation to your walls in an existing house. If you're building a new house, you have many energy-efficient wall insulation options to consider.
Before insulating your walls, you should ensure that they're properly air sealed. Moisture control is another consideration.
Adding wall insulation to an existing house
If you haven't already, first see our information about adding insulation to an existing house. It will help you determine whether you need to or want to add wall insulation.
You'll find many types of insulation for walls. However, for adding insulation to existing finished walls, you might first consider using loose-fill or sprayed foam insulation. These two types of insulation can be added without much disturbance to finished areas of your home.
Choosing wall insulation for new home construction
If you haven't already, first read the page about insulating a new home. This will help you choose from among the many types of insulation for your walls, including some construction techniques.
Unlike traditional stick-frame houses, houses constructed using structural insulated panels, insulating concrete forms, and concrete block insulation literally have the insulation built into their walls. Therefore, these houses usually have superior insulating qualities and levels. If you'd prefer to build a stick-frame house, you should consider using advanced wall framing techniques. These techniques improve the whole-wall R-value by reducing thermal bridging and maximizing the wall area that is insulated.
For stick-frame house construction, you also should consider using foam-insulated wall sheathings instead of the standard wood or asphalt-impregnated sheathing. A half-inch thick foam-insulated sheathing provides an R-value of R-2 to R-3.5. Sheathing thicker than a half-inch thick will yield even higher R-values. These are some other advantages of foam sheathing:
The continuous layer of insulation reduces thermal bridging through wood studs, saving energy and improving comfort.
Foam sheathing is easier to cut and install than heavier sheathing products.
It protects against condensation on the inside wall by keeping the interior of the wall warmer.
It usually costs less than plywood or oriented strand board (OSB).