water wheel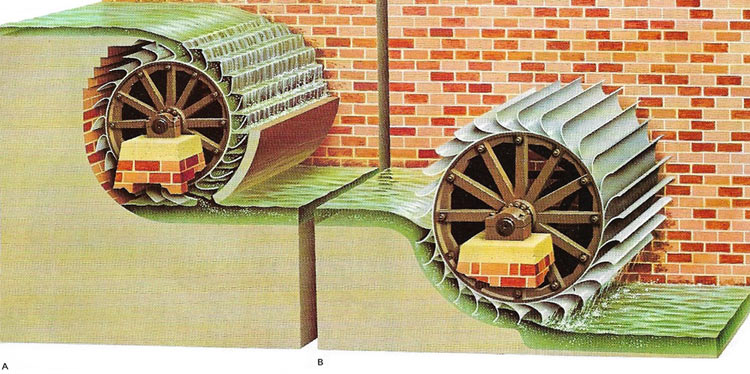 Figure 1. An overshot [A] and an undershot [B] waterwheel.
Figure 2. Corn mills began with the Romans who spread techniques that helped them to exploit their empire. They built undershot and overshot water mills, one driven by the momentum of flowing water and the other by the weight of falling water. This typical modern example has an undershot drive [6] with a hopper [1] for the corn and a chute [2] conveying it to grindstones [3]. The flour produced fell into a chute [4] and then poured into a bag [5].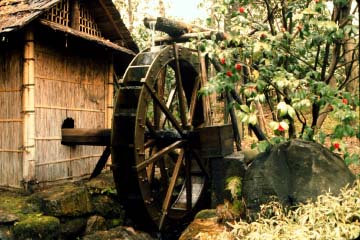 Figure 3. An overshot water wheel.
A water wheel is a mechanical device that is designed to use the weight and/or force of moving water to turn it, in other words it converts the energy of flowing water inti a rotary motion primarily to to drive various machines, such as pumps or mills for grinding corn. It can even be harnessed to drive a dynamo or alternator for generating electricity. Water wheels are virtually silent and pollution-free.
The first water wheels were laid horizontally in moving water, their shafts pointing upward and surmounted by a millstone. Later water wheels were vertical, either undershot (in which the water passed under the wheel) or overshot (in which the water was directed by a sluice on to the top of the wheel). The latter had the advantage of being operable almost independently of the level of water in the stream or river that supplied it (see Figure 1).
Turbines largely replaced water wheels in the second half of the nineteenth century.
Types of water wheel
The two basic types of water wheel are called overshot and undershot. In the overshot wheel, a stream of fast-flowing water is directed on top of the wheel, which turns forwards. The paddles of the undershot wheel dip into the mill stream and the water current turns the wheel backwards. In both types of waterwheels the energy of flowing water is converted into rotary power.