Australia and New Zealand to 1918
Fig 1. Captain Arthur Phillip was the first governor of the colony on New South Wales (1788–1792). He had to deal with the dregs of humanity sent to him from overcrowded British prisons, long, uncertain supply lines, and Sandy soil unsuitable for crops. With such unpromising material he managed to set the fledgling colony on its feet. In spite of his repeated appeals for free settlers, Britain still sent more convicts.
Fig 2. A proclamation to the Australian Aborigines, dated 1816, asserted equal rights and punishments for black and white. But in general the aboriginal population of Australia suffered from the advent of the Europeans. Not only did they suffer hitherto unknown diseases, but encroachment of farming and mining on to their old hunting lands went unchecked. By 1900 Aborigine numbers had been dramatically reduced.
Fig 3. The discovery of gold in Australia in the 1850s brought a rush of immigrants, many of whom came from California after the end of the gold rush. And during the next 100 years Australia was one of the world's major gold producers. In the decade after the first important discoveries in New South Wales and Victoria in 1851, output, at nearly 25 million ounces, was 39% of the world total. Gold is found in all states, the largest producers being Victoria and Western Australia.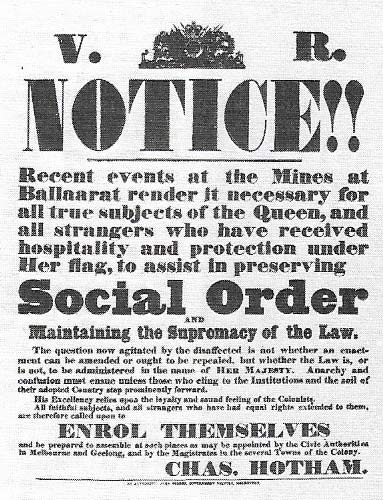 Fig 4. The "Eureka Stockade" of 1854 began when a group of gold miners on the Eureka field near Ballarat, Victoria, reacted violently to the police and military who were harshly enforcing the law requiring miners to be licensed. They built a rough wooden stockade which was easily overcome by the troops. But the incident captured public attention and the organization of mining and electoral legislation were reformed. Licenses became easier and cheaper to obtain, simmering discontent between the Irish and English communities was revealed (the rebel leaders were mostly Irish) and every miner thereafter became eligible to vote.
Fig 5. The refrigerated ship Dunedin was commissioned in 1882 by the New Zealand Land Company to carry about 5,000 frozen lamb carcasses from New Zealand to London. This followed an earlier successful trial shipment from Australia. As a result, trade from both New Zealand and Australia was opened up, and New Zealand lamb has been widely sold in Britain for nearly a century.
Fig 6. Richard John Seddon was Premier of New Zealand from 1893 until his death in 1906. A Liberal, he facilitated the granting of women's suffrage, old age pensions, free places in secondary schools and the passage of other social legislation.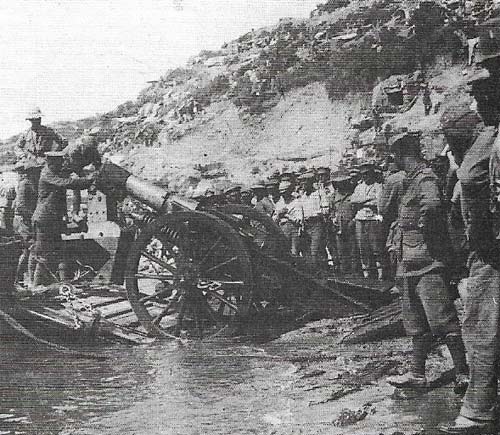 Fig 7. Australia and New Zealand came of age at Gallipoli on 25 April 1915 when the Australian and New Zealand Army Corps (ANZAC) went ashore at Anzac cove. The cliff-face dugouts the troops occupied for eight months can be seen on the right. The campaign cost the Anzacs 44,822 casualties.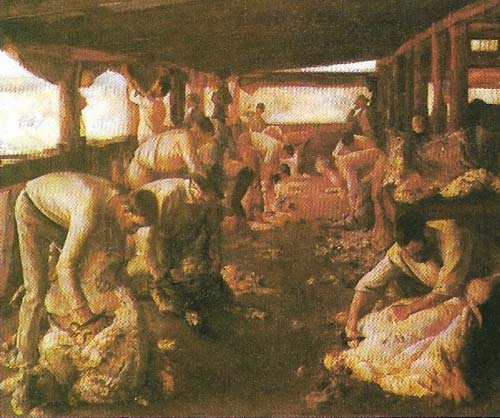 Fig 8. "Shearing the Rams" by Tom Roberts (1856–1931) shows a sheep-shearing scene in Australia in the 1890s. Spanish merino sheep were first imported from South Africa in the late 1700s, and later from England.
Australia began as a penal colony for the overflow from British jails, after the American War of Independence had closed off the main area for convict transportation. The First Fleet, under Captain Arthur Phillip (1738–1814) (Fig 1), arrived in Botany Bay on the eastern Australian coast on 18 January 1788, but the settlement soon shifted to a much better anchorage in nearby Port Jackson. There, at Sydney Cove, the colony of New South Wales was established on 26 January, which was subsequently commemorated as Australia Day.
The early colonies
Convicts provided the initial labor force for erecting a settlement and scratching a living from the poor soil in and around Sydney, but by 1815 a way had been found through the Blue Mountains to the fertile plains in the west. Free settlers, capital accumulated from shrewd trading or imported from England, illegal squatting on Crown lands, and merino sheep all contributed to a developing wool export industry. Wool and wheat exports paid 'for the necessary manufactured goods and, with land sales, helped to subsidize the passage of new settlers.
New settlements were established partly to preempt the French, partly by adventurers without authority, at points along the coast, on Norfolk Island, and in Van Diemen's Land (renamed Tasmania in 1853). The vast distances involved required colonial administrations separate from Sydney. These were set up in Van Diemen's Land in 1825, Western Australia in 1829, South Australia in 1836, Victoria in 1851, and Queensland in 1859.
New Zealand lies 1,920 km (1,200 miles) southeast of Australia. Its fertile, well-watered land had been occupied by Maori Polynesian tribes for more than 400 years by the time the colony was established at Sydney. Sealers, whalers, freebooters, and missionaries soon made their way across the Tasman Sea, establishing coastal trading settlements among a warlike people numbering perhaps 200,000. Apart from the inroads of European diseases, the sale of muskets had a devastating impact on the Maoris, intensifying fierce intertribal wars in the 1820s. Britain annexed New Zealand in 1840 with the assent of most North Island chiefs at the Treaty of Waitangi and made it a separate colony from New South Wales in 1841. Systematic settlement followed, inspired by the evangelical ideas of Edward Gibbon Wakefield. Disputed land titles impeded initial development until Governor (later Sir) George Grey (1812–1898) established order, although in the North Island the way was cleared for massive settler purchases only after Maori chiefs hostile to sales were crushed (1860–1865). In the emptier South Island, pastoral settlement increased, boosted by a gold rush to Otago in 1861. Six provincial councils set up in 1852 gave way to centralized administration by a general assembly in Wellington, which replaced Auckland as the capital in 1865.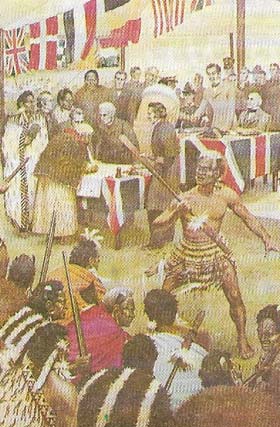 The treaty of Waitangi, concluded on 6 February 1840 between Captain William Hobson RN (1793–1842) and Māori chiefs of New Zealand's North Island, gave Britain formal possession of both major and off-shore islands, while recognizing Māori land rights. Britain had been reluctant to declare sovereignty but by 1838 accepted the need for orderly relationships between Māoris and settlers.
Edward Gibbon Wakefield (1796–1862) developed in England a theory of colonization that was subsequently applied, with varying success, in New South Wales and Port Phillip district (1832–1842), South Australia (after 1836) and New Zealand (after 1839). Crown lands were sold for agriculture to young people of good character, representing a cross-section of British society, from the nobility to laborers.
Expanding economies
In Australia, the discovery of gold (5), especially in Victoria in 1851, brought an influx of migrants, expanded domestic capital and investment, assisted social mobility and created problems of law and order (Fig 4). It also stimulated the founding of colonial constitutions for New South Wales, Victoria, Tasmania, and South Australia and the achievement, between 1853 and 1860, of a large measure of democratic government by lower houses, restrained by upper houses with property qualifications. Frontiers were pushed inland; sheep flocks and wheatfields expanded rapidly and agricultural exports to Britain were increasingly supplemented by mineral products. In New Zealand, the Corriedale crossbred sheep produced good meat as well as wool and refrigerated ships (Fig 5) carried meat and dairy produce on regular voyages to London.
Political developments
During the 1880s, falling export prices, the effects of over-borrowing for expansion, bank failures and a general depression produced strikes and class bitterness which encouraged the entry of labor into politics in both countries. With protective tariffs, industry was expanded rapidly in Sydney and Melbourne., New Zealand, under vigorous Liberal rule from 1891 to 1912 led the world in some aspects of social legislation, namely votes for women (1893), compulsory state industrial arbitration (1894) and old age pensions (1898).
The six Australian colonies became states in the federal Commonwealth of Australia on 1 January 1901, with responsible government based on universal suffrage. The second Prime Minister, Alfred Deakin (1856–1919), like Richard John Seddon (1845–1906) (Fig 6) of New Zealand a staunch nationalist and imperialist, launched many of the policies of the new nation: restrictive immigration based on race; protectionist tariffs with British preferences; industrial arbitration by a court empowered to fix minimum wages; old age pensions, and naval and military defense.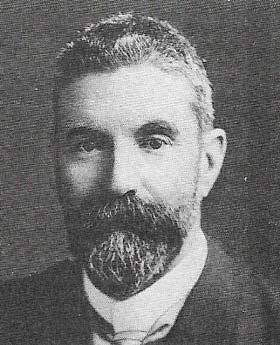 Alfred Deakin, journalist and statesman, initiated the irrigation movement in Australia and helped to form the Australian federation. He was a minister intermittently between 1903 and 1910.
Australia and New Zealand sent forces to South Africa to support Britain during the Anglo-Boer War (1899–1902). In World War I their troops again fought together under British command in the Dardanelles (Fig 7) and in France, both countries making a contribution out of all proportion to their size and forging for the first time, a mature sense of national identity.