abstract art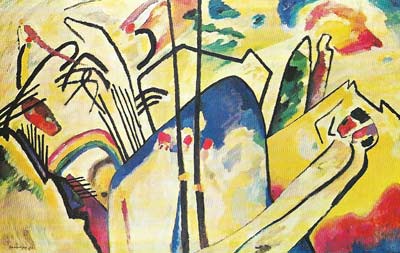 Fig 1. Kandinsky's 1911 "Composition IV" is abstracted from a fairy tale scene. In the center is a blue mountain crowned by the jagged outline of a castle. To the left riders fight, their mounts leaping at each other over a rainbow. Although the forms can be interpreted thus, in 1913 Kandinsky wrote that he meant us to read no narrative into them. The story is a conflict of abstract elements, shrill yellow against deep blue, swelling curve against angular, linear action.
Fig 2. This is a reconstruction of Vladimir Tatlin's "Monument to the 3rd International" (1919) which influenced sculpture as much as architecture.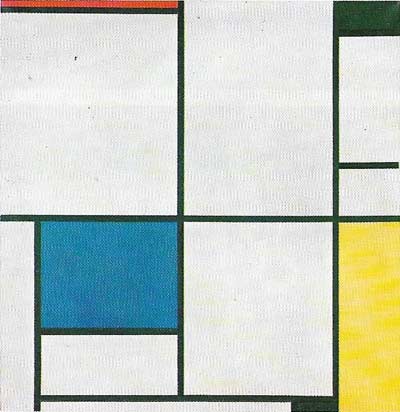 Fig 3. "Composition I with red, yellow and blue" is one of the paintings with which Piet Mondrian established his complete abstract style in 1921. Mondrian held that life was change, and that change was created by the reconciliation of opposing forces. He therefore deliberately reduced painting to a conflict of the most basic visual oppositions.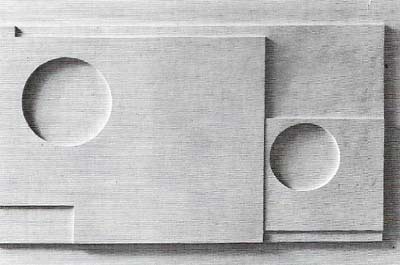 Fig 4. Ben Nicholson carved and painted this "White Relief" in 1935. In 1933 he visited Mondrian in Paris and the painting's tight geometric forms, its simplicity and its exact balance are in sympathy with Mondrian. There is, however, a personal feeling for the wood from which the shapes have been cut and a pleasure taken in the depths of surface that is peculiar to the artist.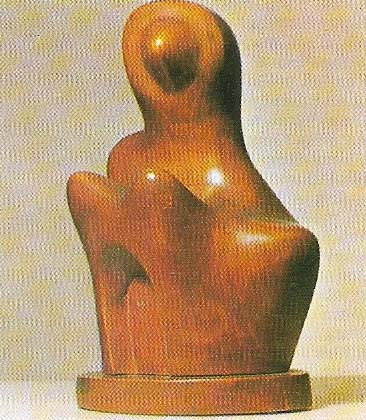 Fig 5. In 1931 Henry Moore (1898–1986) began to use bones, flints, and pieces of wood as the inspiration for his sculptures, which were evocative of the human figure. He made sheets of drawings to explore the figurative possibilities in these natural forms, arriving at images which he then carved in stone or, more rarely, as in this small "Figure" of 1931, in wood (beech). Several are more abstract than this.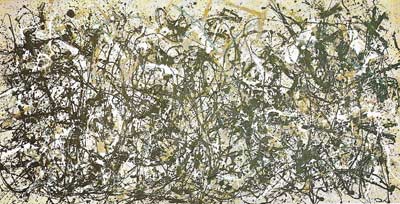 Fig 6. Jackson Pollock's first attempt to create "automatically", without the intervention of conscious control, used archetypical symbols from Jung as their starting-point. But here in "Autumn Rhythm" (1950) he did not require the impetus of symbolic imagery, producing by the swift action of hand and arm sweeping trails of paint which cross over one another to form a whirling mesh of movement. For some critics, painting such as these are expressive through the action of the painter's hand they recorded, hence the description "action painting"; for others, they were significant for the new type of abstract composition – having no sense of object or background – that they introduced.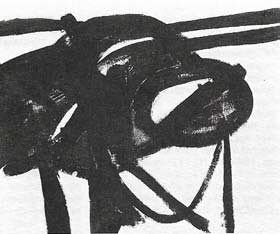 Fig 7. "Chief" by Franz Kline (1950), is one of the artist's earlier black-and-white large abstracts. Up to the late 1940s Kline was painting city scenes, but then made a rapid change. The resemblance to Chinese calligraphy is misleading: Kline stated clearly "I paint the white as well as the black, and the white is just as important". His later experiments with color did not lead him back to a full use of it again.
Abstract art is the most dramatic manifestation of the attempt by twentieth-century painters to overturn the assumption that art must represent appearances. By 1900 photography had already begun to replace realistic painting. The developing use of photography coupled with new ideas about the expressive potential of painting and sculpture resulted in the genesis of abstraction.
The beginnings of abstract art
Between 1910 and 1918 abstract art evolved in several places. In Munich, Wassily Kandinsky (1866–1944) achieved almost total non-representational painting in 1912. He possessed a first-hand knowledge of the work of Gauguin, Van Gogh, and the Neo-Impressionists as well as a profound admiration of "primitive" Bavarian glass-painting and Russian icons. He worked spontaneously, abstracting from images inspired by landscape, legend, and biblical themes (Fig 1).
It was in Amsterdam and Moscow that artists first made works that were composed of "pure" forms without being consciously abstracted from nature. In Moscow Kasimir Malevich's (1878–1935) "Suprematist" compositions of 1915–1919 were the product of an attempt to define an "alphabet" of simple geometric shapes which, set on a white background, seemed to be imbued with movement in infinite space.
In 1915 Kasimir Malevich exhibited a simple square on a white ground. The painting shown here, "Suprematist Painting" (1915), combines geometric shapes which by their overlapping, their different sizes and their color, create the illusion of movement in space..
At the same time Vladimir Tatlin (1885–1953) launched Constructivism with dynamic constructions of glass, metal, and sometimes suspended across corners. These works were free of any mystical content. They led Tatlin to an art based on the tangible qualities of materials assembled in space. By 1921–1922 Tatlin, joined by the Russian painter and typographer Alexander Rodehenko (1891–1956) and others, was making structures directly related to engineering; celebrations of an emerging socialist industrial society. Many of the structures were inspired by Tatlin's own wooden model for a metal structure (which was never built) taller than the Eiffel Tower, his "Monument to the Third International" (Fig 2).
Piet Mondrian (1872–1944) in the Netherlands was the other artist to arrive at an abstract art that was not abstracted from natural objects. His friends in the Amsterdam-centered de Stijl movement geometrized observed forms, but Mondrian began to compose works with straight black lines and colour patches during the years 1917 and 1918. He dabbled in theosophy, but behind his rigorously ordered paintings lay a more rational idea of life. His philosophy of life became so fixed that the style he arrived at in 1920–1921 remained unchanged for nearly 20 years (Fig 3).
Biomorphic and geometric styles
Alongside these developments the Alsatian artist Jean (Hans) Arp (1887–1966) introduced organic forms in an abstract style called "biomorphic". He made a series of painted wooden reliefs when he was a Dadaist in Zurich (1916–1918). His early Dada truculence led him to give his reliefs and sculptures comical titles like the 1926 "Navel Shirt and Head", and his links with the Surrealists in Paris after 1924 ensured a strong biomorphic line in Surrealism, with Joan Miró, (1893–1983) and Yves Tanguy (1900–1955) as its best-known exponents. Henry Moore in moving from his strongly figurative work of the 1920s to a highly abstracted style (1931 onwards) took Arp's direction a step further (Fig 5). After 1922 Russian Constructivism moved in a utilitarian direction, and the mystical art of Malevich was left to die. At the Bauhaus in Germany, Laszlo Moholy-Nagy (1895–1946) backed Constructivist developments and Kandinsky too moved towards geometry. In France artists such as Cesar Domela (1900–1992) and Jean Gorin accepted the more static line followed by Mondrian, while in London, from 1933, Ben Nicholson (1894–1982) developed a geometric style (Fig 4), as did Burgoyne Diller and Fritz Glarner (1899–1972) in New York.
"Naval Shirt and Head" (1926), a painted plywood relief by Jean Arp, anticipates his later free-standing sculpture. The first true three-dimensional work, "Head with Three Annoying Objects" appeared in 1930. Arp wanted to make things that seemed alive and were the product of hand, eye and intuition, yet that repeated the form of no known things. He never abstracted from observed forms and disliked the term "abstract art". His connections with the Surrealist movement were made possible by his dislike of reason and calculation and by his spontaneous way of working.
Abstract Expressionism
Neither geometric nor biomorphic abstraction died during the 1940s, but in New York there was a further major development in abstract art – Abstract Expressionism. This was not a style but rather a group of individual styles, the most influential artists being Jackson Pollock (1912–1956) after 1943 and Willem de Kooning (1904–1997) after 1947. Behind this development lay the Surrealist emphasis on the creative process itself coupled with a desire to break with the confining strictures of geometric abstract art and Cubist structure.
After 1947 Pollock's "drip paintings" (Fig 6) focused attention on the movement of the painter's hand and decisively challenged the tight shapes of twenties and thirties abstraction, both geometric and biomorphic. Thus an entirely new kind of abstract painting was created. Among the artists to follow Pollock's direction without sacrificing individuality was Franz Kline (1911–1962), who in 1950 began to produce black-and-white paintings, such as "Chief" (Fig 7), which were in effect hugely magnified brush drawings. They evolved out of calligraphic figurative drawings done over the previous few years. Less explosively exciting, but equally free of the shaping and the spatial structures of Cubism and geometrical abstraction, were the huge expanses of color produced by Clyfford Still (1904–1980), Barnett Newman (1905–1970), and Mark Rothko (1903–1970).