Eastern Europe after 1949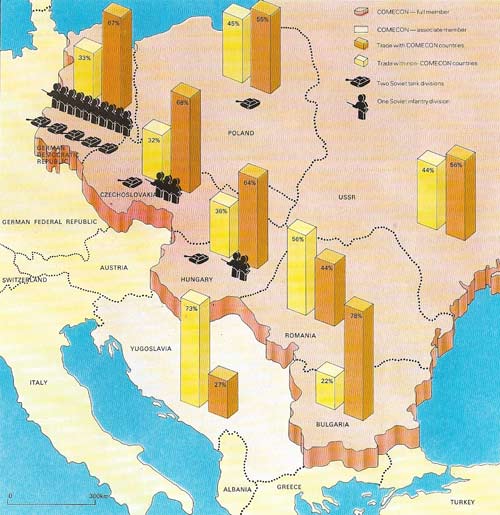 Fig 1. COMECON, the Council for Mutual Economic Assistance (which includes Cuba and Mongolia), was founded in 1949 as Stalin's answer to the Marshall Plan in Western Europe. Revitalized in 1958 by Nikita Khrushchev, the Soviet leader, to consolidate Soviet economic control of Eastern Europe, COMECON embarked on a policy of integration adopted at Bucharest in 1971 and further elaborated at Budapest in June 1975. In 1973 COMECON with 366 million people accounted for only 12% of world trade (the EEC, by comparison, with a population of 253 million, accounted for 40%). However, its trade with the West and the EEC in particular, grew fast, with an increasing proportion generated by joint ventures between partners from Eastern and Western Europe. Higher costs of Western imports provoked more inter-COMECON joint ventures and greater investment in Soviet projects for the exploitation of natural resources. However, Eastern Europe needed the West for its advanced technology. Yugoslavia, an observer in COMECON, conducted over 70% of its trade with the non-communist world, and Romania dealt direct with the EEC. Albania traded with both East and West.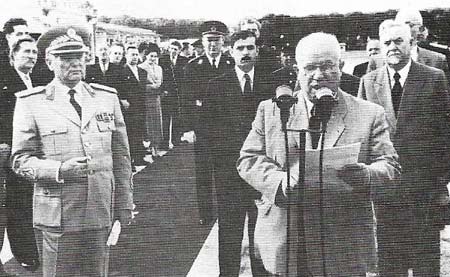 Fig 2. Nikita Khrushchev (1894–1971) (right), Malenkov's successor as Soviet leader, went to Yugoslavia in May 1955 to repair the rift caused by Yugoslavia's assertion of independence in 1948. Khrushchev blamed the quarrel on Beria, the ex-chief of Russian police, executed in 1953. Josip Broz Tito (1892-1980) (left), the Yugoslav leader, insisted on formal Soviet recognition of Yugoslavia's ideological autonomy.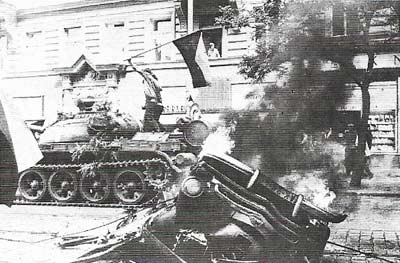 Fig 3. The Warsaw Pact troops who invaded Czechoslovakia in August 1968 met with no military resistance. However, the many spontaneous acts of obstruction such as raising roadblocks and setting fire to Soviet tanks were humiliating for the Soviet leaders who claimed that the intervention had been requested by the Czechoslovak leaders. But supporters of the invasion were, in reality, few and had a little encouragement.
Fig 4. Communism went on show in 1973 with the World Festival of Youth and Students, the largest propaganda rally since 1945. Held in East Berlin, it was a spectacular expression of East Germany's sense of achievement in the year of her worldwide recognition. However, despite the evidence of such displays, youth in Eastern Europe was also interested in Western culture and ideas and often dubious of Soviet Bloc ideology and politics.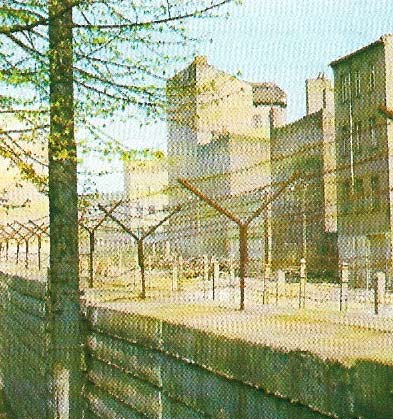 Fig 5. The Berlin wall was built on 13 August 1961 to stop the continual exodus of large numbers of East Germans to the West. Between 1949, when Germany was divided, and 1961, more than 2,700,000 people escaped into West Berlin. Many East Germans still attempted to reach the West despite the dangers.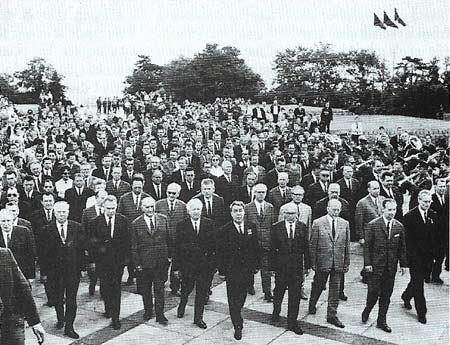 Fig 6. Alexander Dubcek (front, second right) kept in uneasy step with other Eastern European leaders at their meeting in Bratislava on 3 August 1968. Less than three weeks later, Warsaw Pact troops invaded Czechoslovakia. The pact was concluded between the Soviet Union and her satellites in May 1955. It formed the cornerstone of Soviet policy in Eastern Europe, bolstered by the presence there of 31 Soviet divisions.
A successful coup made Czechoslovakia a communist country in February 1948 and extended the area of intensive Russian influence in Eastern Europe. Each country under communist control became a "people's democracy" – a one-party dictatorship closely modeled on that in the Soviet Union. The characteristic features of these regimes were: strict censorship of the press and control of all aspects of culture and religion; central economic planning; rapid and forced industrialization; at least partial collectivization of agriculture and in foreign policy submission to the line laid down in Moscow. Soviet control of Eastern Europe was guaranteed by the presence of Soviet troops in most of the satellite countries and numerous Soviet advisers and instructors.
After the defection of Yugoslavia (always the most independent of the satellite countries) from the Soviet bloc in 1948, purges took place in Albania, Bulgaria, Czechoslovakia, Hungary, Poland and Romania. These purges often culminated in show trials of officials accused of being sympathetic to the idea of the "separate roads to socialism" advocated in Yugoslavia (Fig 2). Non-communists, too, especially members of the Churches, were subjected to persecution and harassment during that period.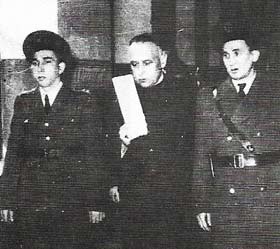 Cardinal Jozsef Mindszenty (1892–1975), Primate of Hungary (center), and a strong anti-communist, was imprisoned for life in 1949 after a dramatic show trial. Freed by the rebels in the 1956 rising, he remained in political asylum in the US Embassy in Budapest until 1971 when he was ordered to Rome by the Pope. He was fervently opposed to Vatican attempts to come to terms with communist regimes in Eastern Europe.
Hungary – to encourage the others
After Stalin's death some of the most unpopular features of his policy towards Eastern Europe were modified by his successors, and East European leaders were allowed some degree of autonomy in their domestic policies. But in October 1956 Hungary openly revolted against its communist regime and repudiated its Soviet alliance. At the same lime in Poland the leadership of the party was restored to Wladyslaw Gomulka (1905–1982), who had been dismissed and imprisoned in 1948 for the alleged adoption of an independent line. After a show of indecision, Soviet tanks were used to crush the Hungarian uprising, but the Soviet Union stopped short of more permanent intervention in Poland. This was a sensible decision. Within a year Gomulka cancelled the liberal concessions that had been wrung from the regime by the intelligentsia in the autumn of 1956. However Poland kept its private agriculture while other East European countries went ahead with plans for full collectivization in the late 1950s.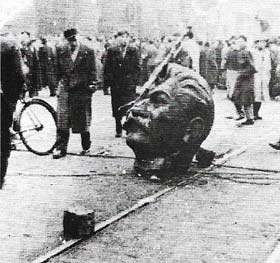 Stalin's statue was torn down in Budapest on 2 November 1956, a dramatic moment in the uprising against Soviet domination and the brutal Hungarian regime. Within two days 150,000 Soviet troops and 2,500 tanks were "pacifying" Hungary. The executions that followed the uprising soon gave way to the intelligent government of Janos Kadar. His policy combined better living standards with wider ideological freedom.
No action was undertaken against Albania, which defected from the Soviet bloc in 1960 and promptly took China's side in the great Sino-Soviet quarrel that was just beginning. Romania opted for a more independent foreign policy in 1964, having for several years strenuously opposed Soviet plans for economic integration within Eastern Europe. But domestically both Albania and Romania remained one-party dictatorships.
The 1968 invasion of Czechoslovakia
Czechoslovakia, which had been the Soviet Union's model satellite for 20 years, provoked the most serious crisis in postwar Eastern Europe in 1968. Alexander Dubcek (1921–1992), who had become party leader and president in that year (Fig 6), embarked on a course of energetic liberalization, of which the Soviet and some other East European leaders publicly disapproved. Censorship was relaxed, and a higher degree of local autonomy was granted to the national minorities. In economic planning a move was made to reduce the high level of centralization, prices were allowed a closer relationship to market forces, and individual enterprises were given greater freedom. When Dubcek refused to bow to pressure from his allies, Warsaw Pact troops from the Soviet Union, Poland, East Germany, Hungary and Bulgaria marched in on 21 August 1968 (Fig 3). Czechoslovak leaders were arrested and taken to Moscow, but when no replacements of any stature could be found they were allowed to stay in nominal power for a few months before being finally replaced in 1969.
Although Czechoslovakia's experiment was brutally suppressed, Hungary, under its leader Janos Kadar (1912–1989), was allowed to carry out a relatively successful series of reforms. Kadar's popular shift towards the consumer goods sector, was emulated elsewhere in Eastern Europe. Poland's new leader, Edward Gierek (1913–2001), who had replaced Gomulka after workers' riots in December 1970, made "Kadarization" one of the basic tenets of his policy. East Germany, too, embarked on its own version of "consumer revolution" in 1971 after the dismissal of its conservative leader, Walter Ulbricht (1893–1973).
The Soviet bloc closes ranks
Although agreements were reached which lowered some barriers between West Germany on one side and the Soviet Union, Poland and East Germany on the other in the 1970–1972 period, there was a new ideological tightening up throughout Eastern Europe. This was due partly to Soviet fear of creeping liberalization and partly to a "backlash" among industrial workers and party officials against the material gains achieved from reform by the professional and managerial classes. New economic predicaments also helped the Soviet Union to turn COMECON's (Fig 1) focus eastwards once more. Western inflation had in the mid-1970s made imports from the West suddenly much more expensive; at the same time the Soviet Union raised the prices of oil and the other raw materials of which it holds a virtual monopoly of supply to Eastern Europe.