Indian art from the Moguls
Fig 1. This Jain religious diagram (yantra), of which a detail is shown, was painted in Gujarat in western India in 1447. It makes no attempt at realism since is purpose was not primarily aesthetic; such considerations were subordinated to the stimulation of religious ideas through the use of traditional artistic forms, Jainist paintings often took the form of manuscript illuminations made on palm leaves, even after the introduction of paper in the late 14th century.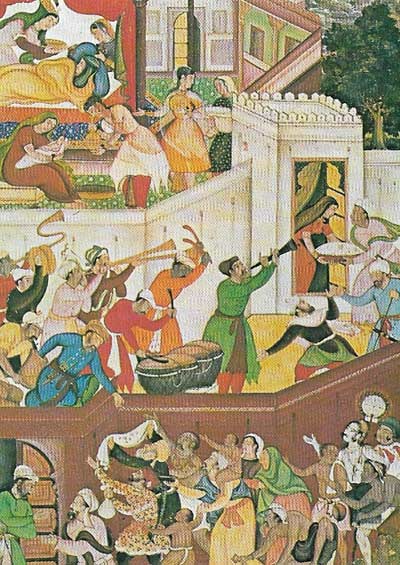 Fig 2. The Annals of Akbar (akbar-nama), c. 1600, illustrates the festivities that marked the birth of Prince Salim at Fathpur Sikri in 1569. Under Akbar Indian painting absorbed the Persian style and became unquestionably Indian. Attentive to detail, its bright colors and agitated composition produced pictures that were like mosaics but seemed to be in constant movement.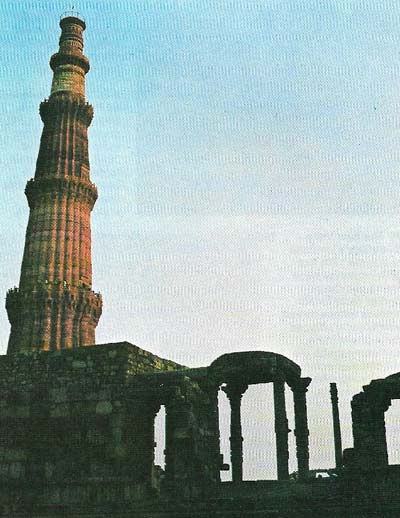 Fig 3. The Qutb-Minar at Lalkot, Delhi, was built c. 1230 with later additions. As well as being a minaret it also served as a watchtower and war memorial. It is a monument to early Islamic architecture in India since the minaret is one of the more obvious characteristics of a mosque. In this case the mosque was constructed partly of material from a nearby ruined Hindu temple.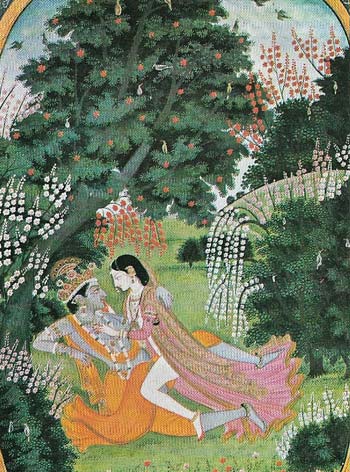 Fig 4. Divine love as an ideal for human love was a popular theme in Indian, as well as European, art, as seen in the poetic paintings of Krishna and Radha. In this picture from the Punjab hills their love is depicted with a poignant tenderness. The complete painting follows the Indian convention of showing two or more related events within the same frame;above the lovers' meeting, shown here, there is another picture of their forest walk.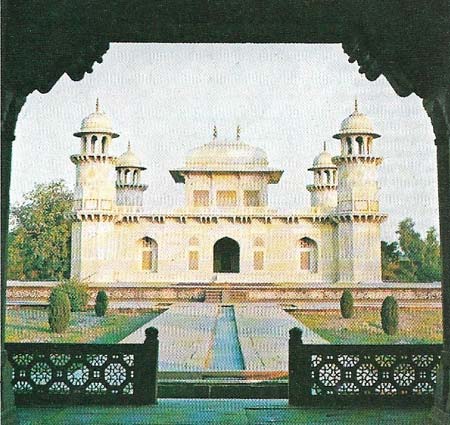 Fig 5. A mausoleum at Agra, erected in 1628, is constructed of marble inlaid with patterns of colored stone. It shows the Mogul interest in surface decoration and linear movement.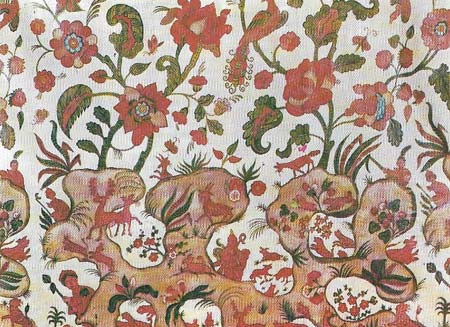 Fig 6. Cotton paintings ("chintz") on an 18th-century coverlet combine Indian technique and European designs, such as engravings of ornamental motifs. Hand-painted at first, they were later block-printed.
The Muslim conquests in India in the twelfth century brought about a fundamental change in the art of the subcontinent. The invaders imposed a foreign style – Persian – upon the country; the new royal patronage encouraged the survival of secular art and there was a systematic attack on religious art. Before the invasions the royal court had patronized art from religious establishments. Afterwards there was far more secular art.
The contrasts with Islam
There could hardly be a sharper contrast than that between the religious monuments of the Hindus, Buddhists and Jains, with their heavy forms and exuberant figure sculpture and the light, airy mosques of Islam with arcades, domes and slender towers (Fig 3). These mosques were without sculptured figures but decorated with disciplined floral and geometric ornaments carried out in bright colours, either flat or in low relief. The floors were often covered with carpets and this helped to foster the Indian carpet industry which, as with other crafts, began with a marked Persian influence but eventually developed its own national style. The same architectural idioms that applied to mosques were used in the erection of other buildings. An important technique of surface decoration consisting of patterns of inlaid colored stone (Fig 5) is similar to Italian pietra dura and may have been imported from the West.
The independence of some cultures within the area of Muslim influence is shown by Jain painting, which developed as a form of manuscript illumination (Fig 1). This painting is quite distinct from the more naturalistic wall painting at Ajanta that preceded it. The him adopted a highly stylized flat and decorative form that made use of bright colors, particularly red, blue and gold. A characteristic trait is the use of wiry, angular figures, each having the head in three-quarter front view with the farther eye protruding beyond the line of the face.
A studio system set up
The establishment of the Mogul dynasty in northern India created conditions under which Muslim art was able to flourish. The emperor Akbar (1542–1605), who was an enlightened monarch, expanded the studio system set up by his father in which Indian painters had worked under the supervision of two Persian painters. This arrangement, together with a prevailing Persian taste, imposed a strong Persian influence on painting at the Mogul court. Under Akbar's patronage, however, a style quickly evolved that was unmistakably Indian, showing a refined naturalism and the use of rich colours to impart vigorous movement (Fig 2).
In the early seventeenth century an interest in portraiture and natural history (perhaps under Western influence) was added to heroic and mythological subjects. A sense of serene contemplation took the place of violent motion; it was coupled with a simpler, more subtle sense of composition and deeper psychological insight. This continued into the reign of Shah Jehan (1629–1658), but while the high standard of technique remained, a stiffness of execution inhibited the former supple spontaneity. Under Aurungzebe (1618–1707), Mogul painting declined – a trend that, in general, continued almost uninterruptedly.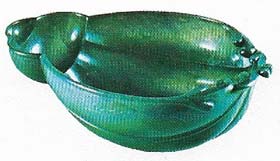 This carved jade wine cup in the form of a gourd bears a legend indicating that it was made for the Mogul emperor Shah Jehan in 1657. It was during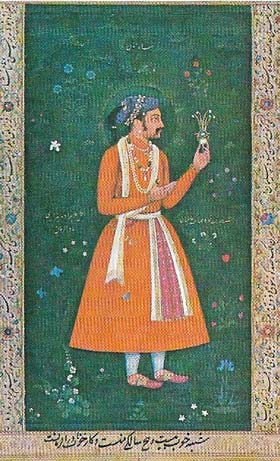 The Mogul emperor Shah Jehan looks at a piece of jewelry in this portrait (c. 1618) that reflects most of the characteristics of post-Muslim conquest Indian art. Opulent, tender, and fastidious, it glorifies the individual. It records also the name of the artist (Abu'l Hassan), who earlier would have been anonymous Although some attempt has been made to achieve a likeness, the result is formalized and without character. The floral background, in which plants are treated in a naturalistic but gem-like way, reflects the interest in flower painting that was fashionable during this period.
In the Deccan a style similar to that farther north – but somewhat modified by pre-Islamic elements – continued during the eighteenth century and produced, among other subjects, illustrations corresponding to musical modes (scales). To the northwest, in Rajasthan, a large number of schools developed under the patronage of local courts of which those at Mewar, Bundi, Kotah, Bikaner, and Jaipur are probably the best known. Their style was characterized in the seventeenth century by emotional intensity and in the eighteenth century by the vivid use of bright colours and an acute sense of drama. Under similar patronage, but below the Himalayas in the hill states of the Punjab such as Kangra and Guler, several schools arose that exhibited a marked individuality of style. Known as Pahari (meaning "of the hills") paintings, these pictures took as their subjects romantic themes found in Hindi and Sanskrit poems such as the Gitagovinda of Jayadeva. This epic dating from the twelfth century recounts the amorous adventures of the Krishna, such as those describing his love for Radha, his favorite gopis (milkmaid). The adventures are admirably illustrated in the Pahari miniatures, which convey the delicate passion of the poem by the expressive use of line and subtle color effects (Fig 4).
The decorative arts
Under the Moguls decorative arts flourished as an aspect of the ostentatious luxury of the court and minor rulers. Intricately wrought gold and silver work was produced as well as jewelry (for men and women) set with diamonds, pearls, rubies and other precious stones. Vessels and other objects such as rings and dagger hilts were carved in rock crystal and jade and were also sometimes inlaid with gold and gems. In addition to embroideries, sumptuous textiles were woven – velvets, brocades and silk fabrics. In southern India, Hindu traditions in decorative art generally held their own in spite of Muslim influence from the north, but they did not remain entirely unaffected. This resulted in a style, best illustrated by some superb ivory carvings, that made use of tightly controlled organic motifs combined with figures sometimes in erotic scenes.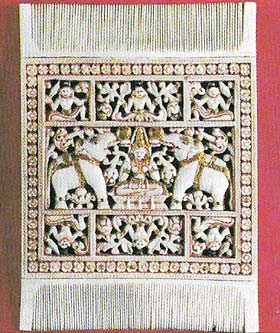 Ivory carving has had a long history in India. It was probably most fully developed in the south, as this 18th-century comb from Mysore, showing Gaja-Lakshmi, goddess of fortune and prosperity, magnificently reveals.