Mohammed and Islam
Fig 1. This painting is from a copy of Siyar-i-Nabi (Life of the Prophet) and shows Mohammed and Abu Bakr on their way to Mecca from Medina. The prophet is traditionally depicted faceless with a flaming halo. The paintings of Islamic art are unique in that the historical events depicted take a secondary place to the intensity of the religious feeling. This work is in the 16th-century Ottoman court style, yet it has almost contemporary realism.
Fig 2. The Prophet Mohammed was a "warner", calling men to turn from idols to worship the one true God (Allah). There are no contemporary pictures of the prophet but later artists have pictured him as an Eastern holy man.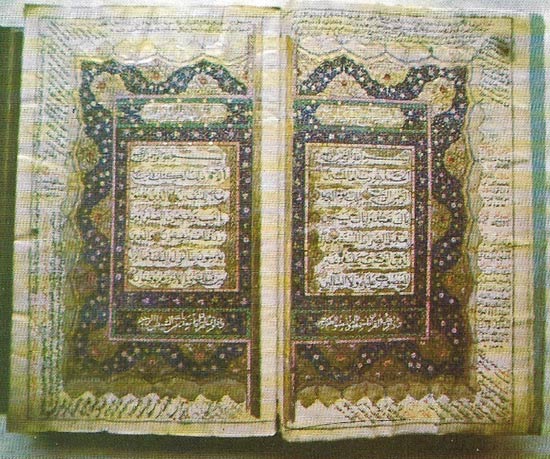 Fig 3. The Koran is the sacred book of Islam. All Muslims know some of its verses by heart and use them in daily prayers, Illuminated copies of the Koran in gold and bright colors were written by hand by skilled scribes.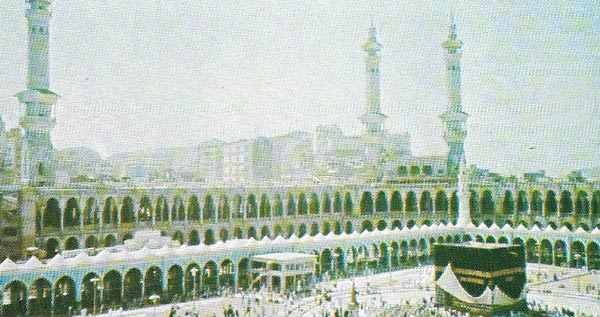 Fig 4. In the center of Mecca stands the Kaaba (cube), a stone building covered with a black cloth, toward which Muslims turn in prayer and round which they go at times of pilgrimage.
Fig 5. The Royal Mosque Masjid-i-Shah, in Isfahan, Iran, was built in the 17th century for Shah Abbas the Great. It is composed of porches, halls, domes and minarets covered with blue tiles and mosaics. Long friezes of elegant lettering proclaim the glory of God.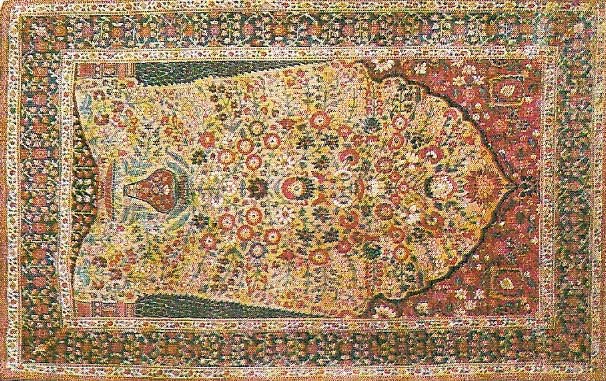 Fig 6. Prayer rugs, such as this 18th-century Persian rug, are famous products of Muslim craftsmen. Large ones cover the floors of mosques.
Fig 7. "Praise be to Allah", the first words of the Koran, is a favorite text inscribed on the walls of mosques.
Mohammed (Mahomet) was born in Mecca in west-central Arabia in c. 570. He had an unhappy childhood: his father, mother, and grandfather died before he was eight and left him in the care of an uncle. At the age of 25 he married a wealthy widow, Khadija, who bore him six children, and for 24 years they lived happily together. Only after her death in 619 did Mohammed take other wives, to strengthen ties with important families and to seek – unsuccessfully – a male heir.
The visions of Mohammed
When he was 40 years old, Mohammed, who loved solitude, was in a cave on Mount Hira outside Mecca when he had visions of the angel Gabriel calling him to "recite" in the name of God the creator. He received revelations that were to become the first parts of the Koran ("recitation"). Mohammed conveyed these teachings to a group of friends who believed with him in the unity of God.
At first the little group, which met for prayers to God (Allah), was ignored or scorned, but as their numbers grew they were persecuted. Some took refuge for a time in Christian Ethiopia. They were called Muslims (Moslems) – "surrendered men" – in the religion of Islam they had "surrendered" or submitted to the one God. Early converts were made from Yathrib, a town 200 km (120 miles) north of Mecca, and Mohammed was invited to go there. In 622 the hegira (migration) took place and Mohammed and his followers moved from Mecca to Yathrib, henceforth called Medina the "city" of the prophet. The Muslim year is dated from the hegira.
At Medina, Mohammed built a mosque and a house, and sent his followers on raids to provide funds and ensure protection against armies from Mecca. There were battles at Badr and Urdu and finally Mohammed's armies and influence grew so that in 630 he was able to capture the city of Mecca almost without loss (1), he rode around the Kaaba shrine (4) and had its idols destroyed.
After the death of the prophet
The death of the prophet in 632 was sudden, but after some hesitation his friend, the elderly Abu Bakr (573–634), was appointed as caliph – successor to the prophet and vice-regent of God. Arabian tribes that had been bound to Mohammed by oath began to break away but Abu Bakr sent armies to establish Muslim rule. They were so successful that his forces broke out of Arabia into the rest of southwestern Asia. Abu Bakr died two years after his appointment, but under his successors, the caliphs Omar and Othman, Arab armies rapidly conquered Mesopotamia and entered Persia, while others entered Syria. Jerusalem surrendered to them and Omar visited the Christian churches there and the site of the ancient Jewish temple where later a great shrine was built, incorrectly called the Mosque of Omar but more properly the Dome of the Rock, one of the most holy laces of Islam. Arab armies went to Egypt, where Alexandria surrendered; then after some delay they travelled along North Africa and in 711 crossed into Spain at Gibraltar. They even penetrated into the heart of France, where between Tours and Poitiers the Muslim armies met Frankish forces under Charles Martel in 732. After seven days of fierce skirmishes the Arabs were forced to retreat southwards.
They remained in southern France for some years but Spain was the limit of their rule and here they remained for centuries until the fall of Granada in 1492, after which Muslims and Jews were expelled from Spain. In the east, Persia came completely under Muslim rule as well as a large part of India. The Muslims preserved much of the cultures they encountered and transmitted them, taking Indian numerals as Arabic numerals to Europe and preserving Greek medicine, astronomy and philosophy during the period of the Dark Ages in Europe.
The importance of the Koran
Mohammed, who is said to have been illiterate, passed the Koran, the divine word, to his followers and it was written down by scribes at his recitation or from his memory (3). The final official version was completed under Othman, about 20 years after the death of Mohammed. The Koran is in Arabic, in 112 suras (chapters) the first of which is always recited in daily prayers. Most of the early chapters are long and deal with religious and social matters, while the later ones are short and challenging in content.
The Koran teaches faith in God, the coming judgement against unbelief, and the ideas of heaven and hell; it also sets out duties appropriate to marriage, the family, and social life. Many stories in it are parallel to some in the Old and New Testaments and Adam, Abraham, Moses, and Jesus appear as prophets. The religious duties of Islam are taught in Five Pillars: confession of faith in one God and Mohammed as his apostle, prayer five times a day (7), alms-giving of a proportion of one's income, fasting from all food and drink during the hours of day throughout the whole of Ramadan (the ninth month of the year), and pilgrimage to Mecca at least once in a lifetime.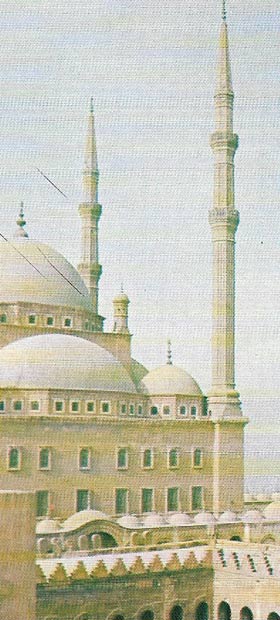 Five times every day Muslims are called to prayer from a mosque or minaret tower. The muezzin calls that "God is most great, there is no God but God, Mohammed is the Apostle of God, come to prayers, come to salvation".
All men and women are bound to preform these religious and social duties, with exemptions for the young, sick and old. Islam is an international religion, with perhaps 500 million followers, mostly in Asia and Africa. The Arabic language prevails in the southern Mediterranean and many Near Eastern countries, and is used by all Muslims to recite the Koran and in formal prayers.