Pepys's London
Fig 1. London before the Great Fire was a chaotic jumble of houses. Old St Paul's dominated the skyline and London Bridge, lined with homes and shops, was the only bridge across the Thames. The city's streets, filthy with rubbish, were dangerous at night because of criminals. The River Thames served as the main highway. It was quicker and cleaner than the narrow and congested cobblestoned streets.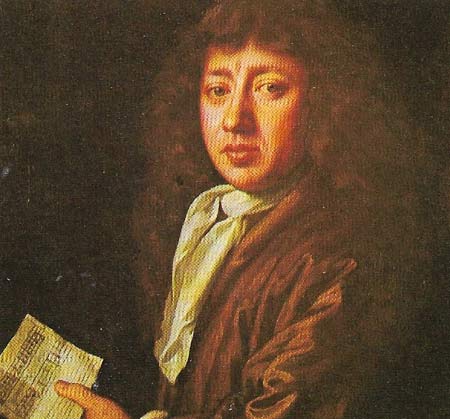 Fig 2. Samuel Pepys held an important post in the Navy Office, and was an MP and president of the Royal Society. His diary shows him to have been cultivated, fastidious, ambitious and lecherous.
Fig 3. Charles II and his mistress Nell Gwynn converse in the presence of diarist John Evelyn (1620–1706). Such a scene, wrote Evelyn, made him "heartily sorry". He was shocked by the king's promiscuity.
Fig 4. Houses huddled against each other in London. Most dwellings were built of wood, (despite regulations against its use) and they had narrow frontages, steep roofs and projecting upper floors.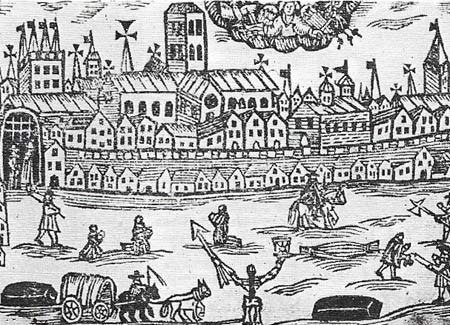 Fig 5. The plague of 1665–1666 was carried by the rats that infested London's teeming tenements, and deaths exceeded 15 percent of the population. By far the worst year was 1665. Carts trundled through the streets at night to collect corpses for communal burial. The court moved out of London as did many people. Houses touched by pestilence were vacated and the door marked with a Red Cross and with the words "Lord have mercy upon us".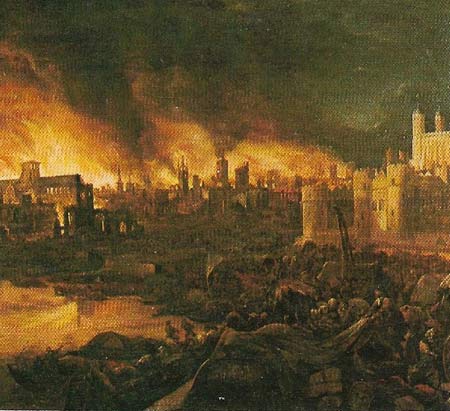 Fig 6. The Great Fire (1666) began in a baker's house in pudding lane and raged for three days. It destroyed 13,000 houses, St Paul's, 87 parish churches and many public buildings. Deaths were few but half the population was rendered homeless.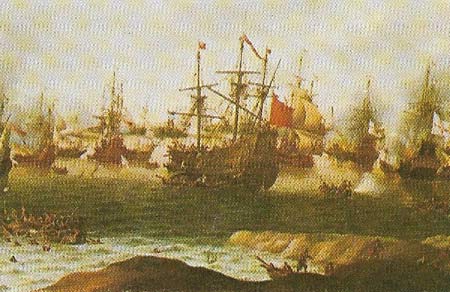 Fig 7. A Dutch fleet sailed up the Medway in June 1667, found defenses almost non-existent, and burned, sank or captured several of the king's greatest ships. The flagship Royal Charles was among those captured. Meanwhile, wrote Pepys bitterly, the king was chasing a moth with his mistress. The Dutch Wars flared intermittently from 1652 to 1674.
Fig 8. Several plans for rebuilding London were advanced after the Great Fire. Christopher Wren proposed that broad, straight streets should be laid down in a geometric pattern, a new St Paul's and Royal Exchange were the main focal points of his scheme, which featured several piazzas. But a shortage of money and conflicting interests meant that no scheme was adopted in full. Instead, the shape of the city was decided by a special committee.
The London of Samuel Pepys (1633–1703) (Fig 2) was small (Marylebone and Mile End were in the country) and consisted of two cities: London, the commercial and financial centre; and Westminster, center of government, politics, and aristocratic society. The two were so different, culturally and politically, that there was often tension between them. Pepys, however, straddled both worlds. A Londoner by birth and a civil servant by profession, he moved easily between his office and lodgings near the Tower and the court at Whitehall. A man of quick intelligence, who paid careful attention to detail, he rose from a comparatively menial post to become James II's chief naval administrator.
Diary of a somebody
There was nothing very unusual about Pepys's rise to wealth and prominence. The Tudor and Stuart civil service offered a career open to talents. What was unusual about Pepys was his diary, which gives an unequalled panorama of life in London between 1660 and 1669: the politics of court and Parliament; meetings with naval contractors and mistresses; music and the theatre; food and drink; and tensions at the office and quarrels with the neighbors.
Insatiably curious and endlessly sociable, Pepys wanted to know everything that was going on and jotted it down, in shorthand, when he got home. On 25 March 1661 he told how, returning home, he "took up a boy that had a lanthoni, that was picking up rags, and got him to light me home, and had great discourse with him, how he could get sometimes three or four bushells of rags in a day, and got 3d a bushell for them, and many other discourses, what and how many ways there are for poor children to get their livings honestly". Gossip about Charles II's sexual cavortings is juxtaposed with details of admiralty business or the latest experiment performed before the Royal Society. National humiliations such as the Medway disaster (6) appear alongside details of a meal.
Congestion, crime and natural disasters
At the Restoration, London [1] was the largest city in England. Its population – not far short of 500,000 – was more than ten times that of Bristol, its nearest rival. Little more than a century earlier, its population had been only 50,000 and it now displayed all the symptoms of unplanned urban growth. Within the old medieval walls rising population and property values encouraged landlords to build upwards and to overcrowd their property (Fig 4) despite municipal attempts to control them.
The fastest growth was to the east and north – Stepney, Whitechapel, Shoreditch, Clerkenwell – and south of the river in Southwark. There the speculative builder and slum landlord operated almost unchecked. Jerrybuilt tenements and insanitary courts housed artisans and porters, watermen and sailors, Huguenots and Irish.
As the population had far outgrown the flimsy machinery of law and order, crime flourished. Violence was never far below the surface in Restoration London. Drunken quarrels ended in murder. Courtiers and soldiers showed a casual disregard for human life. On public holidays law students from the Inns of Court and gangs of apprentices roamed the streets, looking for trouble.
Such a crowded, ill-housed population was vulnerable to the ravages of disease and fire, both of which struck terribly in the 1660s. The last great outbreak of bubonic plague (1665–1656) (Fig 5) claimed more than 70,000 victims in London. Pepys wrote on 30 July 1665: "It was a sad noise to hear our bell to toll and ring so often today, either for deaths or burials; I think five or six times." The Great Fire of 1666 (Fig 6) destroyed most of the City of London. On 2 September Pepys watched the progress of the fire, "a most horrid malicious bloody flame".
Rebuilding and expansion
Out of this catastrophe came a chance to rebuild according to a single coherent plan (Fig 8) a great swathe of central London from the river up to London Wall and from Fenchurch Street to Fleet Street. From the ashes emerged a new city with broader, cleaner streets, brick-built houses, a much purer water supply and a whole series of churches designed by the brilliant young architect Christopher Wren (1632–1723).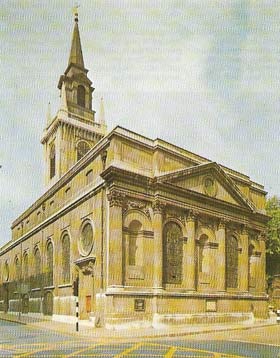 St Lawrence, Jewry, was one of the 53 churches that Christopher Wren built in London following the Great Fire. He was appointed Surveyor-General in 1669 with the task of rebuilding the city. Theses churches have distinctive spires but Wren lavished most attention on their interiors in which he made an interplay of rhythms and light spaces. No authority was able to buy enough land to organize the rebuilding in a centralized manner; but stringent regulations limited private builders.
London had long been the greatest port in the kingdom, and under Charles II new trading companies were established, notably the Royal African and Hudson's Bay companies. But the main source of the impressive commercial growth of the 1670s and 1680s lay elsewhere. First, by protective legislation and naval power England began to challenge the Dutch dominance of the international carrying trade. This would at length enable London to replace Amsterdam as "the world's entrepot". Second, these years saw a massive increase in imports and re-exports of sugar and tobacco from England's Caribbean and North American colonies. In addition, London was the hub of the growing internal trade within England.
Farther west, between the City of London and the City of Westminster, lay an area that had largely escaped the fire. Here were the palaces of the nobility, situated within convenient distance of Parliament and the royal palaces of Whitehall and St James's. The Strand had been developed much earlier and the main growth areas in Pepys's day were in Pall Mall, Piccadilly and St Giles's Fields – around the West End of the future.