Portland Vase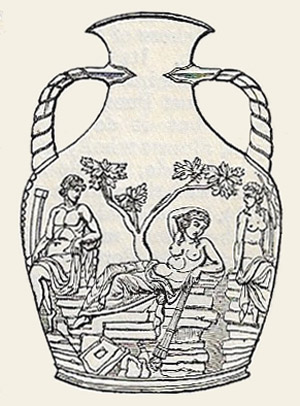 The Portland Vase is a celebrated ancient Roman glass vase or cinerary urn found during the pontificate of Urban VIII (1623–1644) in a marble sarcophagus (of Alexander Severus, it is thought, and his mother Mammm, ) in the Monte del Grano, near Rome. It was at first deposited in the Barberini Palace at Rome, and hence it is sometimes called the Barberini Vase. It was bought in 1770 by Sir William Hamilton, and in 1787 by the Portland family, who in 1810 deposited it in the British Museum, where it is now shown in the Gold Room. The ground of the Portland Vase is of .dark-blue glass, and the figure-subjects which adorn it are cut in cameo style in an outer layer of opaque white glass. The composition is supposed to represent on the obverse Thetis consentmg to be the bride of Peleus, in the presence of Poseidon and Eros; on the reverse, Peleus and Thetis on Mount Pelion. On the bottom of the vase is a bust of Paris.
The vase was broken to pieces in 1845, but the fragments were skilfully united again. The Portland Vase is 10 inches high, and is the finest specimen of an ancient cameo cut-glass vase known. There are only two others of similar character which approach it in beauty – an amphora in the Naples Museum and the Auldjo Vase. But fragments of the same kind of glass exist with work upon them quite as fine.
In the end of the 18th century Josiah Wedgwood, the famous potter, made fifty copies in fine earthenware of the Portland Vase, which were originally sold at twenty-five guineas each.