spire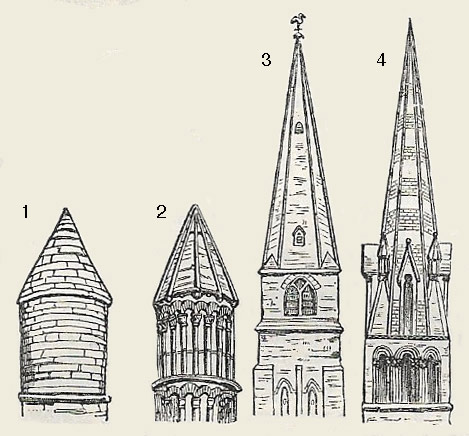 1) Turret, St Peter's Church, Oxford; 2) Turret, Rochester Cathedral; 3) St Mary's Church, Cheltenham; 4) Bayeux Cathedral, Normandy.
A spire is a very acute pyramidal roof in common use over the towers of churches. The history of spires is somewhat obscure but there is no doubt that the earliest examples of anything of the kind are the pyramidal roofs of the turrets of Norman date. Those of St Peter's, Oxford (1) and Rochester Cathedral (2)are good specimens of circular and octagonal pointed roofs, or spires in an embryo condition. Spires of this early period are much less acute than those of later date.
The Early English style has spires of sharply pointed form over the larger towers. They are generally octagonal and what are termed broach spires – i.e. the slopes spring from the cornice of the tower without any parapet, and at the point where the square changes to the octagon there is a small set-off or separate roof (3). Sometimes the angles at the top of towers were occupied with pinnacles or sloping masses of masonry, as at Bayeux Cathedral, Normandy (4).
In the Decorated style the spires were more ornamented, having generally a parapet and pinnacles at the top of the tower, crockets on the angles, and enriched windows.
The spires of the Perpendicular, and Flamboyant 'styles are still more enriched, with flying buttresses at the angles, etc. They are sometimes perforated, and the sides of the spire filled entirely with tracery. Such spires are common in Germany, those of Strassburg and Freiburg on the Rhine being very fine examples, as also that of St Stephen's, Vienna. As in the later styles generally, the character and beauty of the spire give place to dexterity in masonry, and many examples exist of traceried spires more wonderful than beautiful.
Spires are most frequently constructed of stone, but they are also occasionally made of wood, and covered with lead, copper, slates, or shingles. These are chiefly to be found in localities where stone is scarce.
Among famous spires may be mentioned those of Ulm (530 feet), Cologne (515 ft), Rouen (of cast-iron, 487 ft), St Nicholas, Hamburg (482 ft), Strassburg (465 ft), Chartres (371 ft), and Salisbury (404 ft), the highest in England, as St Mary's Cathedral, Edinburgh (275 ft), is the highest in Scotland, and St Patrick's Cathedral, New York (328 ft), in the US. With these heights may be compared the Eiffel Tower (985 ft ), the Washington obelisk (555 ft), the Forth Bridge (361 ft), and the domes of St Peter's at Rome (435 ft) and St Paul's in London (404 ft).