British Invasion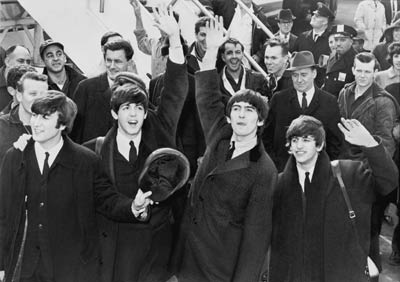 The Beatles after just arriving in the United States.
The "British Invasion" was a term used by the popular press, and subsequently by historians of popular music, to describe the impact of British groups on the US popular music scene and their dominance of the American charts from early 1960 to 1964–1965.
A strong British grassroots popular music scene emerged in the late 1950s, encouraged by skiffle, and drawing on American rock'n'roll and R&B for inspiration. The beat boom bands inflected these sounds with their own styles and increasingly produced their own material. The main centers were Liverpool (Merseybeat) and London's R&B-based scene.
The Beatles were the crucial performers and their success opened the way for such bands as The Dave Clark Five, Gerry and the Pacemakers, and The Rolling Stones. Prior to this, few British recording artists had found sustained popularity in America. Indeed, Capitol Records, the US subsidiary of EMI, initially declined to release Beatles records in the USA, licensing them to smaller labels. Forexample, Vee Jay Records released "Please Please Me" in February 1963, and a modified version of the group's first album (Please Please Me) as Introducing The Beatles in July 1963. With little accompanying promotion, these releases failed to do well on the charts, despite their UK success. This all changed with the band's first US tour in 1964, and the accompanying Beatlemania and chart domination.
The British Invasion ended in the mid-1960s, as The Beatles stopped touring in 1966, and the United States produced a number of successful bands, such as The Byrds, who drew heavily on the British groups and their music. The British invasion was nonetheless important in reshaping American popular music in the early 1960s, while validating the emerging youth culture. Although it stifled the emergent black R&B and the girl groups, it prompted the emergence of garage bands and American power pop.
The success of The Beatles, followed by the other British groups, created a standard rock group line-up, usually consisting of four, or possibly five players, with drum kit, lead, rhythm and bass guitars, plus vocals delivered by one (on lead) and all (chorus). The Beatles also established the importance of the singer-songwriter, and the cultural significance of groups performing their own material.