ballad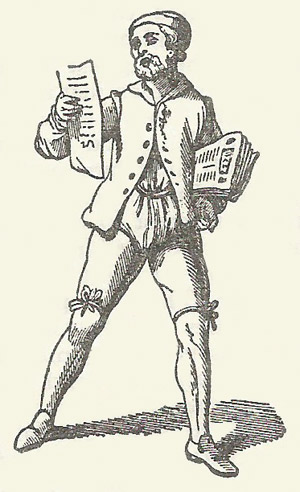 A ballad seller singing his wares through the streets.
Originally, a ballad was a song to be danced to (from the Latin ballare, 'to dance', as also in 'ballet'). From the sixteenth century or earlier, 'ballad' came to mean anything singable, simple, popular in style, and for solo voice. However in most modern music genres, including pop and jazz, the term 'ballad' refers to a love song that is downbeat, slow, and emotional (e.g." Misty" or "Yesterday").
Shakespeare shows us the ballad-singer, who was also a ballad-seller, hawking his wares ('broadsides' or 'broadsheets'): these often described some interesting event of the day (actual or imaginary), marvellous, tragic, heroic, etc., the new poems (sung to old and known tunes) being usually in the traditional balled meter – the 'common meter' of hymn books. Each is generally adorned with a primitive woodcut, often ostensibly picturing the event described but sometimes totally irrelevant.