electric piano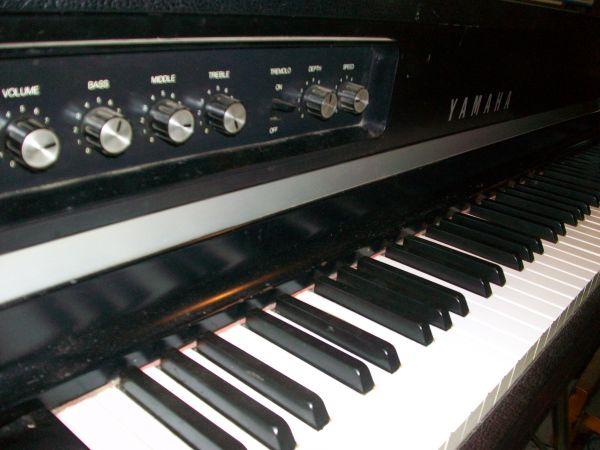 Electric pianos fall into three categories: electro-acoustic pianos, amplified tines, and electronic or digital pianos.
Electro-acoustic pianos
These instruments amplify the sound of what is, essentially, a traditional acoustic piano mechanism – hammers hitting strings. Perhaps the best-known examples are Yamaha's 73-note CP-70 and its bigger brother, the 88-note CP-80. Though still large and heavy, the Yamaha CP pianos were relatively portable due to the fact that they could be split into two sections – one containing the keyboard and hammer mechanism, the other containing the actual strings on the harp-like frame. Behaving like an acoustic piano, the sound of the CP-70 and CP-80 could be still heard with the power off, albeit much quieter than a comparatively sized conventional baby grand.
Of course, the use of a traditional piano-string mechanism meant that these instruments still needed constant tuning, more so during life on the road. The sound was amplified through a sophisticated piezo pickup and preamp system that turned the acoustic vibration of the strings into an electrical signal. Because of their imposing stage presence, responsive keyboard and bright, rich tone, the Yamaha CP-70 and CP-80 found favor with many keyboard players including Tony Banks (Genesis), Howard Jones, and Vangelis.
Amplified tines
Like the Yamaha CP-70, instruments in this category used a pickup system to amplify the acoustic sound of a mechanical action. However, instead of strings, these pianos use the percussive quality of hammers hitting metallic reeds or tines – rather like a tuning fork. Perhaps the best known example of such instruments is the Fender Rhodes. Developed by Harold Rhodes (1910–2000), the Fender Rhodes had a distinctive bell or celeste-like sound that could be, by turns, soft and lyrical or aggressive and biting. Classic models include the Suitcase (which included a tremolo system, a 0W amplifier and built-in speakers) and the Fender Rhodes 88, available in Suitcase or Stage variants. This latter version stripped the instrument of its built-in speakers to make it lighter and less expensive. The sound of the Fender Rhodes can be heard on tracks such as Herbie Hancock's "Chameleon", Billy Joel's "Just the Way You Are", and Stevie Wonder's "You Are the Sunshine of My Life".
Other manufacturers, such as Wurlitzer and Hohner, employed similar technology to produce their own models of electric piano. Songs featuring the Wurtlitzer include Queen's "You're My Best Friend", Supertramp's "The Logical Song", and Ray Charles's "What'd I Say".
Electronic/digital pianos
These instruments do not use mechanical action or amplified acoustic sound, but generate sound by purely electronic means, usually by replaying samples of instrumental sounds stored in ROM (Read-Only Memory). For the domestic market, instruments such as the Yamaha Clavinova range come with built-in amplification, speakers, and have a full complement of different instrumental sounds, pre-programmed drum rhythms and auto-accompaniment features. Professional stage instruments, like the Kawai MP8 or the Kurzweil PC88, do not usually include built-in amplification and speaker systems.