Schoenberg, Arnold (1874–1951)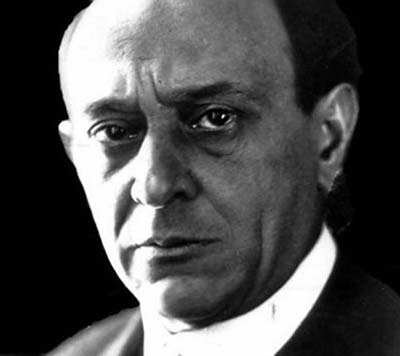 Schoenberg was one of the seminal figures of 20th-century music. He loosened the grip of traditional tonality and explored new ways of working with the 12 notes of the chromatic scale. Although his own music is still generally misunderstood and has never achieved great popularity with audiences, his influence on other composers was immense.
He was born in Vienna, into an orthodox Jewish family, and began to learn the violin at eight. His father died when he was 15, and he was forced to leave school and take a job as a bank clerk. In the evenings he studied music, philosophy, and literature, and taught himself to play the cello. His first composition lessons came from Alexander Zemlinsky, whose sister Mathilde he married in 1901. By that time he had written a string quartet, the string sextet Verklärte Nacht (Transfigured Night), and Gurrelieder (Songs of Gurra), for five voices, narrator, choir, and orchestra. At that time Schoenberg was writing in a post-Romantic, Mahlerian style, but his works met with incomprehension from the start.
Berlin
At the end of 1901 Schoenberg moved to Berlin, where he supported his family (including his daughter Gurtrud, born in 1902) first by providing and arranging music for a cabaret, and then by teaching at the Stern Conservatory. He spent the next 30 years see-sawing between Berlin and Vienna, where he moved back in 1903 as a private teacher (his most notable pupils were Alban Berg and Anton Webern). His son Georg was born in Vienna in 1906.
By 1907–1908 Schoenberg was experimenting with atonality and free dissonance, in works such as the First and Second Quartets, the song anthology Das Buch der hängenden Gärten (The Book of the Hanging Gardens), and the Three Piano Pieces, Op. 11, and in his major works of 1909 – the dramatic monologue Erwartung (Awaiting) and the Five Orchestral Pieces, Op. 16. They were greeted with outright hostility by the conservative Viennese, and when Schoenberg applied for a professorship at the Vienna Academy of Music and Dramatic Art, he encountered virulent anti-Semitism.
As a result, in 1911 he moved back to Berlin, where his Pierrot lunaire (Moonstruck Pierrot, 1912) for voice and chamber ensemble was well received. The work represents the first use of a technique Schoenberg called Sprechstimme ("speaking voice"), also known as Sprechgesang ("speech song"), in which the singer "speaks" rather than sings each note, starting on the pitch indicated but immediately leaving it in a rise or fall. Meanwhile, in 1912, the long-delayed orchestral version of Gurrelieder was applauded in Vienna, much to Schoenberg's disgust. Nonetheless he moved back to Vienna in 1915, when he briefly enlisted in the army but was discharged owing to poor health.
New tonality
After the war Schoenberg founded the Society for Private Musical Performances, which until 1921 gave some 350 performances of new music by himself, his pupils and colleagues. His works of the early 1920s laid the foundation of his revolutionary "12-note" style in the Five Piano Pieces, Op. 23, the Serenade and the Piano Suite. His wife died in 1923, but less than a year later he married Gertrud, sister of the violinist Rudolf Kolisch. He had three more children, including two sons born after he emigrated to the USA.
From 1925 until 1933 Schoenberg taught at the Prussian Academy of Arts in Berlin, where he wrote several major works including the Variations for Orchestra, and the operas Von heute auf morgen (From One Day to the Next, 1928–1929) and Moses und Aron (1930–1932); the title was deliberately spelt this way by Schoenberg to avoid the unlucky number of 13 letters). In 1933 Hitler's anti-Semitic legislation robbed him of his job and forced him to leave Germany for good, despite the fact that he had been baptized a Christian in 1898.
America
The family spent the summer in France, where Schoenberg re-converted to Judaism, and then sailed for America, where he began teaching in New York and Boston. A lifelong sufferer from asthma, he moved for the sake of his health to the West Coast, where he taught at the University of Southern California. His late works include concertos for violin and piano, the Fourth String Quartet (1936) and the String Trio (1946), the Ode to Napoleon Buonaparte (1942) and several pieces inspired by his faith, including Kol nidre (All Vows, 1938), his setting of the prayer for Yom Kippur, and A Survivor from Warsaw (1947). A deeply superstitious man, Schoenberg foretold his own death from heart failure on 13 July 1951.