About me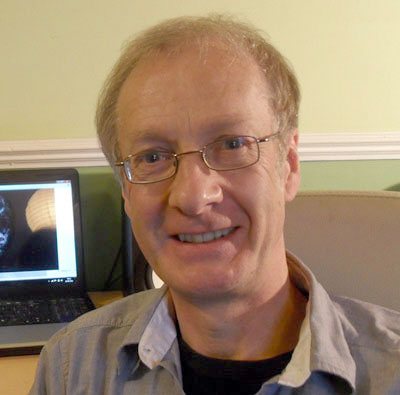 I'm a British astronomer, science writer, and musician currently living in Dundee, Scotland, with my American wife Jill. We have two grown-up children and three grandchildren.
I was born in Glossop, Derbyshire, England, on July 29, 1953, and grew up in the beautiful Peak District, close to Kinder Scout for those who know the area. I went to New Mills Grammar School and then on to Sheffield University, where I earned my B.Sc. in physics in 1974, and Manchester University, for my Ph.D. in astronomy in 1977.
Around the time I left Manchester I met my future wife and decided to move to the States. I served as manager of applications software for the supercomputer company Cray Research in Minneapolis for several years, and it was during this time that our two children were born. While at Cray I wrote in my spare time for Astronomy magazine and, in 1982, decided to take the plunge into full-time freelance writing. That's been my main occupation ever since, interspersed with appearances on US and UK national radio, lectures, travel, and most recently, singing and songwriting. We moved back to England (Cumbria) around the time of my career change, spent the next 16 years here, returned to the US in 1999, and reemigrated again to the UK in 2004.
My first books – a 10-volume children's series called Discovering Our Universe – were published in 1984-85. In 1989, I wrote my first adult popular science book, Deep Time (Delacorte). This was followed by Equations of Eternity (Hyperion, 1993), Soul Search (Villard, 1995), Zen Physics (Harper Collins, 1996), The Extraterrestrial Encyclopedia (Random House, 2000), Life Everywhere: The Maverick Science of Astrobiology (Basic Books, 2001), The Complete Book of Spaceflight (John Wiley, 2002), The Universal Book of Astronomy (Wiley, 2003), The Universal Book of Mathematics (Wiley, 2004), Teleportation: The Impossible Leap (Wiley, 2005), Gravity's Arc: The Story of Gravity from Aristotle to Einstein and Beyond (Wiley, 2006), We Are Not Alone (co-authored with Dirk Schulze-Makuch, OneWorld, 2012), Megacatastrophes! Nine Strange Ways the World Could End (co-authored with Dirk Schulze-Makuch, OneWorld, 2012), The Rocket Man (OneWorld, 2013), and Weird Maths (co-authored with Agnijo Banerjee, Oneworld 2018). My other books are the children's series The World of Computers (6 volumes, 1986), Could You Ever (6 volumes, 1990-91), Experiment! (6 volumes, 1991-92), and Beyond 2000 (4 volumes, 1995). My articles and reviews have appeared in Astronomy, Omni, Penthouse, New Scientist, The New York Times, and The Guardian, among others.
I've also run this website, The Worlds of David Darling, since 1999. It's grown now to around 14,000 pages, several million words, and includes the Encyclopedia of Science, the Encyclopedia of Alternative Energy and Sustainable Living, the Encyclopedia of History, the Encyclopedia of Music, and the Children's Encyclopedia of Science. Over the years it has had tens of millions of visitors and contributed some of the original content to the science pages of Wikipedia.
A separate website, Songs of the Cosmos, is devoted to my music.