Augustine, Norman Ralph (1935–)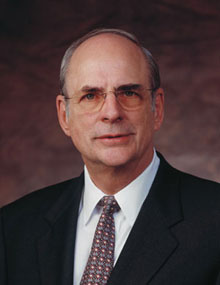 Norman Augustine is a central figure in the American aerospace industry who has played an important role in shaping United States space policy. Augustine served as Under Secretary of the Army, Assistant Secretary of the Army for Research and Development, and Assistant Director of Defense Research and Engineering in the Office of the Secretary of Defense, before becoming chairman and chief executive officer of the Martin Marietta Corporation in the 1980s. In 1990 he was appointed head of an Advisory Committee for the Bush (senior) administration which produced the Report of the Advisory Committee On the Future of the U.S. Space Program1 – a pivotal study in charting the course of the space program in the first half of the 1990s.2 He also chaired the 2005 National Academies commission that produced the landmark report, Rising Above the Gathering Storm: Energizing and Employing America for a Brighter Economic Future.
References
1. Report of the Advisory Committee on the Future of the U.S. Space Program. Washington, D.C.: Government Printing Office, 1990.
2. Augustine, Norman R. Augustine's Laws. Washington, D.C.: American Institute for Aeronautics and Astronautics, 1984.