Banks, Joseph (1743–1820)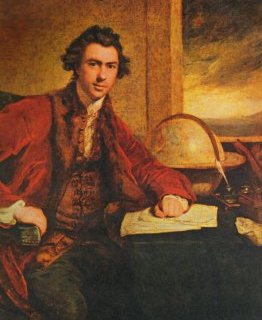 Painting of Joseph Banks by Joshua Reynolds in 1773.
Joseph Banks was a British naturalist and botanist who accompanied Captain James Cook as on his first expedition aboard HMS Endeavour to Tahiti (1768–1771). At Botany Bay, Australia, in 1770, Banks collected samples of plants hitherto unknown in Europe, including the shrub banksia, named in his honor. Upon his return, he helped establish the Royal Botanic Gardens at Kew, London, and financed international plant-collecting expeditions.