Brand, Vance (1931–)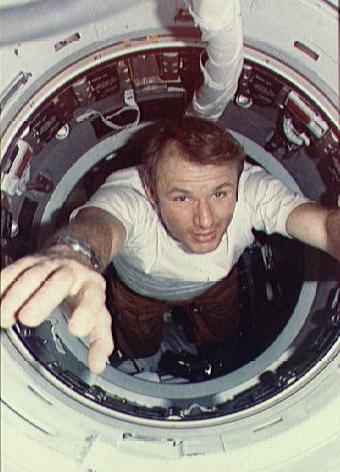 Vance Brand is a retiredAmerican astronaut. He served as Command Module pilot on the Apollo-Soyuz Test Project (ASTP) and commander of three Space Shuttle missions.
Brand received a BS in aeronautical engineering from the University of Colorado in 1960 and an MBA from the University of California, Los Angeles, in 1964. A commissioned officer and aviator with the United States Marine Corps from 1953 to 1957, he continued in Marine Corps Reserve and Air National Guard jet squadrons until 1964, and from 1960 to 1966 was employed with Lockheed Aircraft Corporation. While with Lockheed, he graduated from the Naval Test Pilot School and was assigned as an experimental test pilot on Canadian and German F-104 programs.
Following his selection by NASA as an astronaut in Apr 1966, Brand served on the ASTP. He returned to space on November 11, 1982, as commander of the fifth flight of Columbia and the first operational mission of the Shuttle fleet. He commanded Challenger on the tenth shuttle flight in February 1984, then returned to Columbia for his third shuttle command in December 1990. In 1992, Brand left the astronaut corps and accepted a NASA assignment as director of plans for the X-30 National Aerospace Plane Joint Program Office at Wright-Patterson Air Force Base.