Collins, Michael (1930–2021)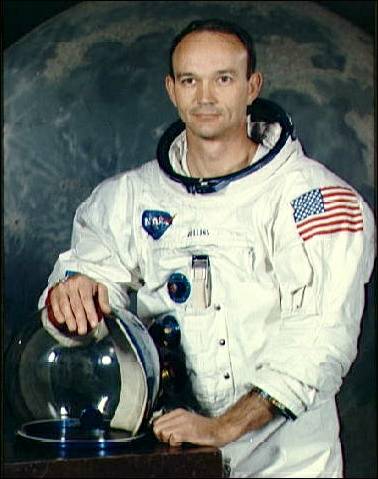 Michael Collins was an American astronaut, born in Rome, Italy, who walked in space during the Gemini 10 mission and circled the Moon as the Apollo 11 Command Module pilot.
In his first spaceflight, Gemini 10, Collins took part in several brief spacewalks. The most exciting of these followed the Gemini 10 spacecraft's successful docking with an Agena Target Vehicle, when Collins performed an EVA to the Agena in order to retrieve a micrometeorite package that had been left in space for several months. On his first try, Collins lost his grip and tumbled head over heels at the end of the umbilical around the Gemini. He successfully retrieved the package on his second try. His second spaceflight was no less eventful, when he acted as pilot of the Command Module on Apollo 11 – the flight that witnessed humans first setting foot on the Moon.
Collins received a BS degree from West Point in 1952, then entered the Air Force as an experimental flight test officer at Edwards Air Force Base before being selected as an astronaut in 1963. He retired from the Air Force as a major general and left NASA in 1970. After serving briefly as Assistant Secretary of State for Public Affairs, he became the first director of the Smithsonian Institution's National Air and Space Museum (1971–1978), overseeing its construction and development.
Collins wrote several books, including Carrying the Fire, Liftoff, and Space Machine, which blend good humor with incisive journalism. He recorded, for example, how bad he felt about losing a camera in space on Gemini 10, and how he responded when asked what went through his mind at blastoff: "Well, you think about the fact that you are at the top of 6 million parts, all made by the lowest bidder!"