F-14 Tomcat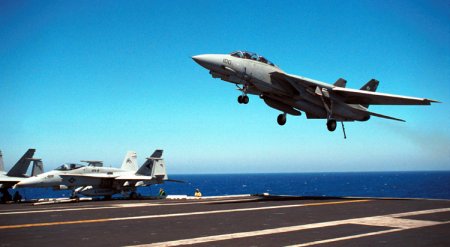 F-14 Tomcat. Image credit: U.S. Navy
The F-14 Tomcat is a United States combat aircraft. Six long-range AIM-54A Phoenix missiles can be guided against six separate threat aircraft at long range by the F-14's AWG-9 weapons control system. For medium-range combat, Sparrow missiles are carried; Sidewinders and a 20-mm cannon are available for dogfighting. In the latter role, the Tomcat's variable-sweep wings give the F-14 a combat maneuvering capability that could not have been achieved with a "standard" fixed planform wing.
Designed in 1968 to take the place of the controversial F-111B, then under development for the Navy's carrier fighter inventory, the F-14A used the P&W TF30 engines and AWG-9 system and carried the six Phoenix missiles that had been intended for the F-111B. A completely new fighter system was designed around these with emphasis on close-in fighting "claws" along with standoff missile fighting. From its first flight on 21 December 1970, the F-14A has come through five years of development, evaluation, squadron training and initial carrier deployments to become the carrier air wings' most potent fighter. Technical and financial problems that received a great deal of publicity have been overcome in achieving this goal.
Originally it was planned that the F-14B with the advanced P&W F401 would be the major production version. However, performance of the TF30-P-412 exceeded expectations while development of the F401 was delayed. One F-14B was flight tested, showing that an F401-powered Tomcat would be a potential future option.
The Tomcat caps a long line of Grumman Cats. In the hands of Navy pilot/NFO teams, it provides the carrier task force with its first-line offense and defense against any enemy air threat in the tradition of its predecessors. The current inventory includes F-14As, F-14Bs and F-14Ds.
In addition to its outstanding fighter capabilities, the Tomcat is now being configured as a potent, adverse weather, medium-range strike aircraft that is being fielded through cost-effective upgrades to F-14A/Bs. With the ability to launch Joint Direct Attack Munitions (JDAM), coupled with an INS/GPS integration and off-the-shelf electronic countermeasure improvements, the Tomcat will provide a multi-mission strike/escort capability which will be part of the inventory until at least 2010.
wing span
64 ft unswept; 38 ft swept
length
62 ft 7 in
height
16 ft
weight
empty: 40,104 lb
maximum take-off: 74,348 lb
speed
maximum: 1,544 mph
cruise: 576 mph
ceiling
more than 56,000 ft
power plant
two Pratt and Whitney TF-30-P412A turbofan engines with afterburners; F-14B and F-14D: F-110-GE-400 augmented turbofan engines with afterburner
crew
two
contractor
Grumman Aerospace