Lebedev, Valentin V. (1942–)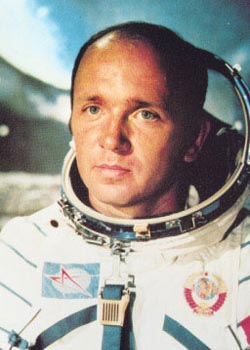 Valentin Lebedev is a veteran Soviet cosmonaut who published a candid diary of his long stay aboard the Salyut 7 space station. After graduating from the Moscow Sergei Ordzhonikidze Aviation Institute, Lebedev worked on the design and development of new spacecraft systems. He made his first spaceflight in December 1973 as flight engineer aboard Soyuz-l3. In 1980, he missed out on the Soyuz-35 flight to Salyut-7 after injuring his leg but was assigned to a later mission to the space station that lasted from May to December 1982. His "Diary of a Cosmonaut: 211 Days in Space" is an intimate account of his experiences during this time and useful material to planners of future long-duration manned missions.
He comments on his problems in getting along with crewmate Anatoly Berezovoy: "July 11: Today was difficult. I don't think we understand what is going on with us. We silently pass each other, feeling offended. We have to find some way to make things better." He admits how hard it is to be away from his family: "October 3: Lusia (his wife) told me yesterday, 'Valia I miss you so much.' I said, 'We miss each other so much that this separation should be enough for the rest of our lives.'" He bemoans his space rations: "October 11: All night I dreamed of a bowl of steaming borscht with two scoops of sour cream." He speaks often of strained relations between ground controllers and cosmonauts: "September 12: They always want to know what our mood is and look inside of us... [C]onstant questions such as, 'How do you feel?' 'What are you doing now?' or 'How did you sleep' are very irritating. Future programs for space settlement and long-term flights should pay attention to ... social-psychological problems, such as communications between people on Earth and those working in space." He becomes weary of the tedium: "October 13: Five months of flight. I cannot believe that we have flown for so long. We don't feel time anymore. It's getting more difficult now. I begin to count the days... I think our fatigue grows because our interest in work is fading. I don't even want to look out the porthole anymore." And he offers a frank account of his return to Earth: "December 10: It was dark outside. The air smelled fresh. The snow fell lightly on my face. But all I felt was sick to my stomach ... I asked for a napkin and threw up into it. After I threw up a few more times, I felt better." There are some lighter moments, too. Among them: the tale of the constipated French visitor to the station, the sunbathing sessions at the porthole, the laborious bathing procedure, and the admission that extended weightlessness left the cosmonauts much "furrier."