Matador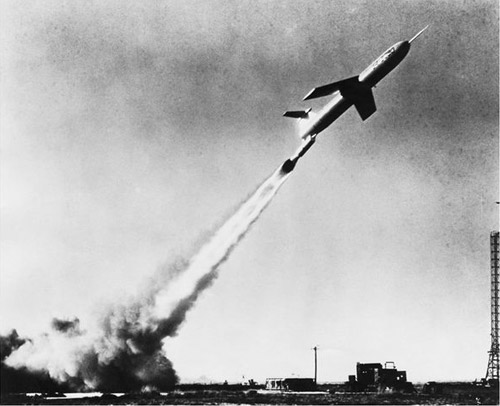 A Martin TM-61B Matador taking off.
Matador was the first successful surface-to-surface, pilotless, tactical weapon developed for the United States Air Force. The Matador B-61A 'pilotless bomber' was a highly mobile system designed to deliver a warhead on tactical missions in support of ground troops for a distance of up to 960 km. It was designed as a 650-mph winged tactical missile built to carry a 3,000-lb conventional or nuclear warhead a distance of approximately 500 mi. The Matador utilized a solid propellant rocket bottle as a Rocket Assisted Takeoff (RATO) system to lift itself into the air from a 'roadable' zero-length launcher. After the rocket burned out and dropped off, the Matador was powered to its target by an Allison J-33 turbojet engine. Tests in the early 1950s included the development of two different guidance systems: the Matador Automatic Radar Command (MARC) system and the Short Range Navigation Vehicle (SHANICLE) microwave system. Both systems required ground stations to control the missile's airborne guidance hardware. While the early test version of the missile measured 34 ft 7 in long and had a wing span of 23 ft 4 in, the production models were 39.6 ft long and measured 28.7 ft from wing-tip to wing-tip.
The Matador project began shortly after the end of World War II. Test firings took began in 1949 in Alamogordo, New Mexico, and by January 1951, the Matador was in production.