Musgrave, (Franklin) Story (1935–)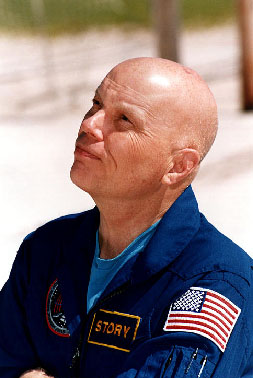 Story Musgrave is a retired American astronaut and veteran of six Space Shuttle flights. Musgrave holds numerous degrees including a BS in mathematics from Syracuse University (1958), a MBA from the University of California, Los Angeles (1959), a BA in chemistry from Marietta College (1960), an MD from Columbia University (1964), an MS in physiology and biophysics from the University of Kentucky (1966), and an MA in literature from the University of Houston (1987).
He joined the Marine Corps in 1953 and served as an aviation electrician and instrument technician and as an aircraft crew chief. He was selected by NASA as a scientist-astronaut in 1967 and served as backup science-pilot for the first Skylab mission, CapCom (Capsule Communicator) for the second and third Skylab missions and several Space Shuttle missions, a mission specialist on Shuttle flights STS-6 (1983), STS-5F/Spacelab-2 (1985), STS-33 (1989), STS-44 (1991), and STS-80 (1996), and payload commander on STS-61 (1993). He left NASA in August 1997 and now works at Walt Disney Imagineering in the research and development division.