history of motorcycles
Fig 1. Indian (1911) became popular by taking 1st, 2nd, and 3rd in the Isle of Man TT races. This rarer single-cylinder machine also had twist-grip controls.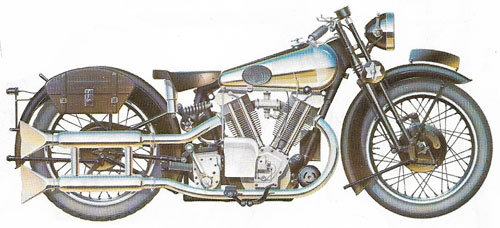 Fig 2. Brough Superior (1924) was the first production machine generally available with a top speed of more than 160 km/h (100 mph). This 1930 version had a JAP 680 cc V-twin engine, a heavy-duty four-speed Sturmey Archer gearbox and a bottom link front ion, the Black Alpine, had a JAP 680 cc V-twin engine, a heavy-duty four-speed Sturmey Archer gearbox and a bottom link front fork developed by Harley Davidson.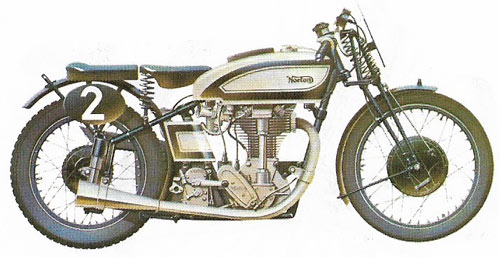 Fig 3. Norton International (1932) was so successful it became known as the "Upapproachable Norton". This 490 cc version had hairpin valve springs and others had rubber-mounted handlebars. Optional extras included plunger-type rear springs straight-through exhaust pipes and a Norton TT-type gearbox.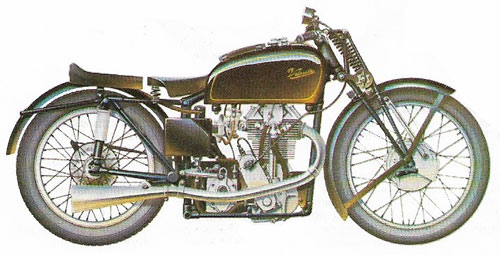 Fig 4. Velocette KTT (1949) resulted from the firm's considerable racing success in the 1930s. The machine had a 348 cc overhead camshaft engine, air-filled "hydraulic" rear shock absorbers and "girder" front forks (later superseded by "tele-draulic" forks), to smooth the ride.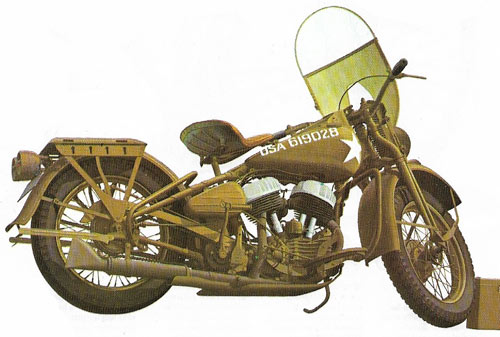 Fig 5. Harley Davidson WLA and WLC (1945, produced for the Canadian Government) were adapted from earlier civilian machines. They had strengthened frames, bearings, gearboxes, and clutches. The 750 cc V-twin side-valve engine was rugged and reliable. It was one of the machines for Allied dispatch riders and military police at the end of the war.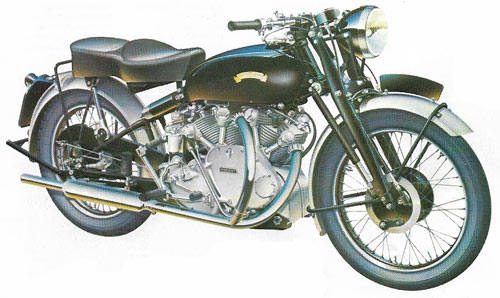 Fig 6. Vincent Rapide (Series C, 1950) was based on a 998 cc machine of 1937, it had twin carburettors and twin brakes on each axle and in 1955 held the solo and sidecar records.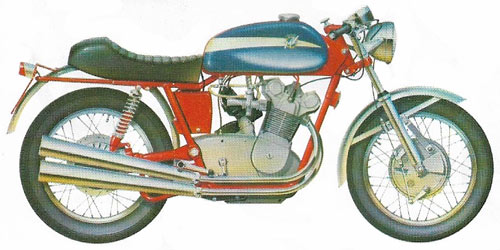 Fig 7. MV Augusta (1950) was a four-cylinder motorcycle designed by Ing Remor. First versions had a shaft drive, later replaced by a chain. It had one of the first electric starters.
The motorcycle is an older invention than the motor car. Two Frenchmen, Pierre and Ernest Michaux, built the first motor cycle – a steam powered "boneshaker" in Paris in 1869, sixteen years before Karl Benz (1844–1929) and Gottlieb Daimler (1834–1900) made the first cars. But the advantage of Daimler's petrol engine was soon put to use by motorcycle designers.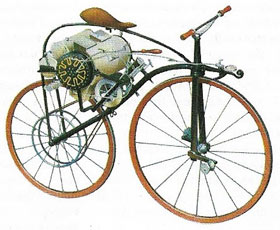 The first recorded motorcycle was built in France in 1869, based on an existing velocipede – a type of bone-shaker" pedal bicycle. It had a small single-cylinder steam engine. A flexible leather belt linked a pulley on the engine with a larger one on the rear wheel, thus gearing down the speed of the engine. Within 20 years other inventors constructed steam bicycles and tricycles and in 1886 the German engineer Gottlieb Daimler fitted his air-cooled gasoline engine into a wooden bicycle, also of his own design. At about the same time the English inventor Edward Butler (1863–1940) patented his "Petrocycle", a three-wheeler with spoked wheels and a two-cylinder water-cooled engine. The first commercially successful gasoline-engined motorcycle was produced in 1893 by Henry and Wilhelm Hildebrand in Munich.
Early developments
Other technical innovations soon improved these early machines. The pneumatic tire of J. B. Dunlop (1840–1921), invented in 1888, helped to absorb some of the bone-jarring shocks from the road surface. The final drive was generally a leather belt, which tended to break or slip in wet weather. The engine was started by pedalling, to turn over the engine, or by "bump starting" in which the rider pushed the machine, running alongside and jumping into the saddle when the engine fired. The Butler spray carburettor of 1889, modified and refined by Wilhelm Maybach (1847–1929) in 1893, was the forerunner of those still used today.
Motor tricycles also date from about 1880. Some were little better than motorized wheelchairs. But the De Dion Bouton of 1898 had a rear-mounted engine, a differential, and was capable of the then staggering speed of 40 km/h (25 mph).
In Britain the Road Acts of 1861 and 1865 had required that all motor vehicles be preceded by a man carrying a red flag. The repeal of these laws in 1896 removed the restrictions that had cramped British designs for so long. In the same year Colonel Capel Holden patented a motor cycle with a four-cylinder opposed engine. This had a commutator-type distributor powered by a coil and a battery, as on a modern car. External connecting rods drove the rear wheel directly by means of overhung cranks.
Wider applications of motor cycles
The motor cycle movement was also growing in the United States where by 1905 the main manufacturers were Harley Davidson and Indian. Both companies pioneered the use of twist-grips (Fig 1) on the handlebars to control the throttle and advance and retard of the ignition timing. The 1.75 hp Indian of 1905 had a single-cylinder engine with a steel cylinder machined from a solid casting. Harley Davidson produced their first V-twin cylinder engine in 1909 and have used the same layout in most of their engines ever since. By 1914 the motorcycle speed record has risen to 150.5 km/h (93.5 mph). In the same year, the first of World War I, the British army began to use motorcycles for dispatch riders and used machines fitted with sidecars that could also carry a machine gun.
By the 1920s nearly all large-engined machines had a chain or shaft as final drive. Overhead valve engines began to appear and some, such as the 1,000 cc units in Harley Davidsons and Indians, had four valves to each cylinder. In Germany BMW produced their first motor cycles with a horizontally opposed twin-cylinder engine, an arrangement that has also survived to the present.
As the volume of traffic increased, particularly in the United States, police forces began to use motorcycles for patrol duties. Large four-cylinder machines produced by companies such as Henderson and Indian were particularly suited for driving on the long, straight American roads.
Two-stroke engines
A two-stroke petrol engine has fewer moving parts than a four-stroke and is easier to maintain. By 1930 Villiers and other companies were producing a wide range of single-cylinder two-stroke engines. During the late 1920s and the 1930s the motor cycle under-went a social change. It ceased to be a luxury machine and evolved into a relatively cheap and utilitarian form of transport. A pillion passenger could be carried behind the driver and a sidecar gave the "combination" a carrying capacity of up to four (two adults and two children).
By 1937 a Brough Superior fitted with a 1,000 cc JAP engine had pushed the world speed record up to nearly 275 km/h (170 mph). Once again the motorcycle industry was preparing for war. In 1938 BMW produced the R75 model, with a sidecar, for the Germany army. Both sides made collapsible motorcycles for paratroops.
Post-war development was characterized by smaller, higher-revving engines and in Europe thousands of motor scooters were produced. Between 1950 and 1965 manufacturers of dearer "luxury" machines such as the Vincent and Sunbeam (which used rubber-mounted engines) were forced to close down in the face of competition from mass-produced machines from Triumph, BSA, Norton and AMC. A wide range of purpose-built machines became available for scrambles, trial,s and road-racing.
During the early 1960s the Japanese Honda company began to enter Western markets with their small, 50 cc four-stroke machines. Followed by Suzuki and Yamaha producing two-strokes, they soon dominated the market with models ranging from 50cc "monkey bikes" to 750 cc four-cylinder machines capable of 210 km/h (130 mph).
Most motorcycles sold today are economic and comfortable machines. Electric starters and hydraulic disk brakes are becoming standard. The early 1980s may see the introduction of more rotary engine motorcycles, such as those which are already being produced by the DKW company.
Types of modern motorcycles include (A) standard 750 cc road-going sports, capable of carrying two people at speed; (B) trials bike with high-mounted engine, wide handlebars and knobbly tires for cross-country riding; (C) Italian-pioneered motor scooter with good weather protection; (D) "step-through" motorcycle with small engine and automatic clutch for use in towns; (E) fully modified road racer with a highly tuned engine in a special frame giving a 280 km/h (175 mph) machine suitable for only the most experienced riders; and (F) the "chopper" using a standard engine in a highly modified frame with upswept handlebars and a sit-back saddle.