SEALAB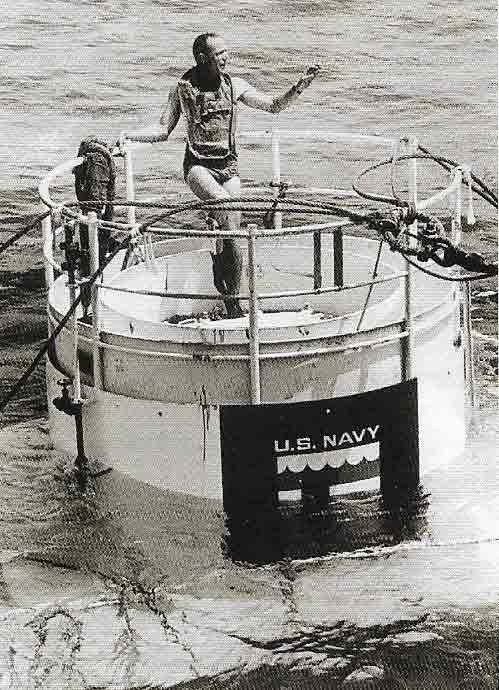 Aquanaut Scott Carpenter stands atop SEALAB II and gives the signal for it to be lowered in 1965. Carpenter joined the SEALAB project after working as an astronaut for NASA.
The ocean deeps offer more than the possibility of discovering new species in an unfamiliar habitat. There is also much to learn about the physiological and psychological effects of placing human beings for extended periods in the extremely isolated, artificial environment of a deep-sea station.
The United States Navy SEALAB program enabled human researchers, for the first time in history, to engage in research and salvage operations on the floor of the ocean. It was conceived as part of the navy's "Man in the Sea Program," which was tasked with understanding the physical effects on humans of increased barometric pressure, a majority helium atmosphere, and the physiological effects of prolonged isolation. All of the relatively small, steel SEALAB structures – comparable to submarines but without engines – were connected by a hose that supplied fresh water. There were three SEALAB submersible habitats, manned by so-called "aquanauts".
SEALAB I was lowered into the water off the coast of Bermuda in July of 1964, although the experiment was halted after only eleven days due to an impending tropical storm. SEALAB II was operational in 1965, and introduced an number of novelties not found in the first structure: showers, a laboratory to record conditions on the ocean floor, and a trained porpoise, Tuffy, who delivered supplies in response to a buzzer. SEALAB III completed in 1969 and submerged at much greater depth than the previous two SEALABs, was scrapped after it developed a leak.
During the 1960's SEALAB was a national sensation. Improved deep-sea salvage and rescue techniques, and provided psychiatrists and other medical professionals with a wealth of information about effects of the deep-sea atmosphere. Discussions of human isolation pertaining to Mars missions now incorporate observations from SEALAB.