Satish Dhawan Space Centre, Sriharikota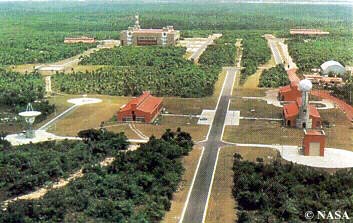 Satish Dhawan Space Centre is the main launch site of the Indian Space Research Organisation (ISRO). The Satish Dhawan Space Centre, also known as the Sriharikota Range (SHAR), is located on Sriharikota Island (13.9° N, 80.3° E), about 80 kilometers north of Chennai. This island was chosen in 1969 for setting up of a satellite launching station because of various factors; a good launch azimuth corridor for various missions, ability to utilize Earth's rotation for eastward launchings, nearness to the equator, and large uninhabited area, offering a safety zone. The facilities at SDSC include solid propellant production plant, rocket motor static test facility, launch complexes for a variety of rockets, telemetry, telecommand, tracking, data acquisition and processing facilities, and other support services. Range safety restrictions on launch azimuth make it inefficient to launch into polar orbits from here. The facility was named Satish Dhawan Space Centre SHAR (SDSC), on September 5, 2002, in memory of Prof Satish Dhawan, former Chairman of the ISRO.
Sriharikota Island
Sriharikota Island is 17 km from the main land and is surrounded by the Bay of Bengal on the east and the Pulikat Lake on the West. The shallow backwaters in the Pulikat Lake attract a large number of migratory birds. The island has a variety of flora and fauna. Several new plantations are all along the coast and protect the island from high-speed winds during cyclonic period. The island was inhabited by a tribal community, Yanadis, who have been resettled within the island and also rehabilitated by providing employment opportunities and educational facilities.