trichinosis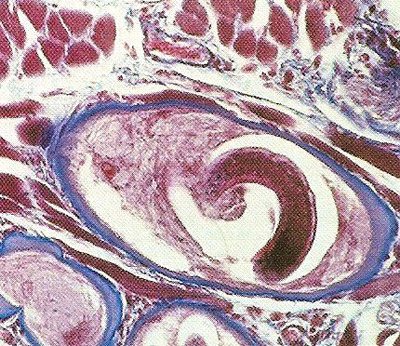 Light micrograph of tissue taken from a biosopy sample taken from a patient's muscle shows a cyst formed by a Trichinella spiralis larva, an infestation of which causes trichinosis.
Trichinosis is an infestation with larvae of the worm Trichinella spiralis, contracted from eating uncooked pork, etc. It is avoided by the adequate cooking of pork products, and freezing meat to a temperature below -18°C for 24 hr. Chemotherapy may be helpful in severe cases.
Symptoms
A slight infestation usually causes no problems. However, heavy infestation may cause diarrhea and vomiting within a day or two of eating infected meat; gastrointestinal symptoms are followed by fever; edema around the eyes; severe muscle pains, which may last for several weeks; and myocarditis (inflammation of the heart muscle).
Diagnosis and treatment
Trichinosis may be suspected from the symptoms, and the diagnosis is confirmed by blood tests, or by a muscle biopsy (tissue sample). Treatment of the infestation is with an anthemintic drug.