Webb, James Edwin (1906–1992)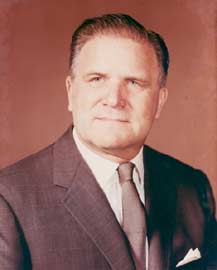 James Webb was NASA's second Administrator. Webb received an AB in Education at the University of North Carolina in 1928 and studied law at George Washington University before being admitted to the Bar of the District of Columbia in 1936. He enjoyed a long career in public service, rising to become Under Secretary of State in 1949. At the end of the Truman administration in 1953, Webb took a post with the Kerr-McGee Oil Corporation, returning to Washington on February 14, 1961, to accept the position of Administrator of NASA. Under his direction the agency undertook President Kennedy's goal of landing an American on the Moon before the end of the decade. For seven years after Kennedy's May 25, 1961, lunar landing announcement, through October 1968, Webb politicked, cajoled, and maneuvered for NASA in the capital. By various means, Webb built a network of political liaisons that brought continued support for and resources to accomplish the Moon landing on the schedule Kennedy had announced. Webb was head of NASA when tragedy struck the Apollo program.
On 27 January 1967, Apollo-Saturn (AS) 204, was on the launch pad at Kennedy Space Center, Florida, moving through simulation tests when a flash fire killed the three astronauts aboard – "Gus" Grissom, Edward White, and Roger Chaffee. Webb told the media, "We've always known that something like this was going to happen soon or later... who would have thought that the first tragedy would be on the ground?" As the nation mourned, Webb went to President Johnson and asked that NASA be allowed to handle the accident investigation and direct the recovery. He promised to be truthful in assessing blame and pledged to assign it to himself and NASA management as appropriate. The agency set out to discover the details of the tragedy, correct problems, and get back on schedule. Webb reported these findings to various Congressional committees and took a personal grilling at nearly every meeting. While he was personally tarred with the disaster, the space agency's image and popular support was largely undamaged. He left NASA in October 1968, just as Apollo was nearing a successful completion. Subsequently he served on several advisory boards, including as a Regent of the Smithsonian Institution.