Baroque art: style and content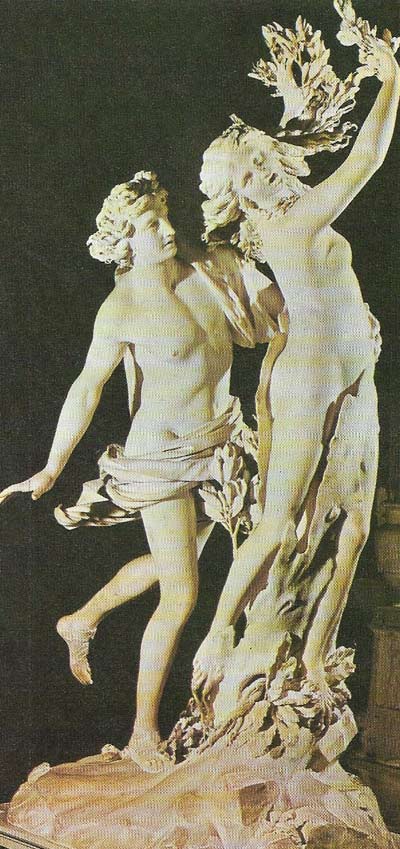 Fig 1. Bernini, foremost of the Baroque sculptors, first asserted his hold over his patrons and fellow artists by the brilliance of his technique. In his life-size marble of "Apollo and Daphne" (1622–1625), for Scipione Borghese, Daphne is changed before our eyes onto a laurel tree as the pursuing god is about to catch up with her.
Fig 2. Baroque realism was first expressed in a brutal and dramatic way by Michelangelo da Caravaggio, a north Italian painter who took Rome by storm in the 1590s. Although largely untutored he was a man of genius with a fiery temperament, well exemplified in his "David with the Head of Goliath" (c. 1606). His work had great influence on contemporary artists.
Fig 3. The full flowering of Baroque style in architecture as a field for structural even more than decorative ingenuity occurred in Germany in the 18th century. The church of the Vierzehnheiligen (Fourteen Saints) (1743–1772) in northern Bavaria was designed by Balthasar Neumann on a plan of intersecting ovals, so that there is a constant sense of interpenetrating spaces, a sense enhanced in the vertical plane by endless vaults and arches. The interior appears to be all arches and projecting piers, with jutting curves, and no walls. The decoration of the altar is Rococo.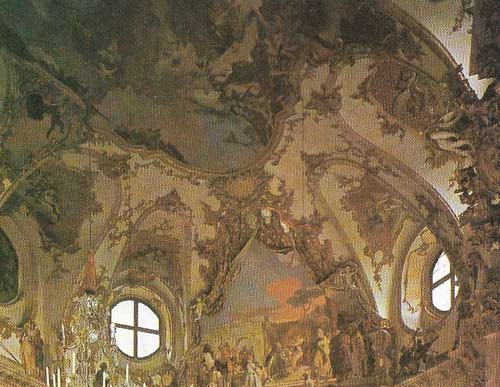 Fig 4. In late Baroque, the time-honored Italian ambition to paint a many-figured fresco ceiling decoration was carried out with greatest virtuosity. In the dining-room of the Wurzburg Residenz, Germany, the 18th century Venetian painter, Giovanni Battista Tiepolo not only worked on an oval field but dispensed with an internal painted architectural framework, so that the whole vast design occupies a single unit of space and spills out on to the white and gilt stucco surround. He received the commission from the Prince-Bishop in 1751, and the subject is "Apollo conducting Beatrice of Burgundy to Frederick Barbarossa".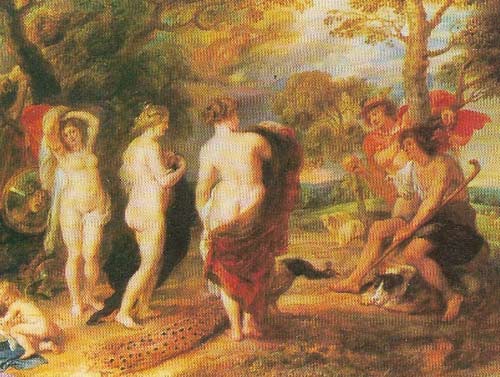 Fig 5. Italian inspiration and a degree of Flemish realism are the basis of Peter Paul Rubens's style. To this he added shimmer and fluency and a vigorous dynamic sense. In his paintings, everything – nature, animals, human flesh – is instilled with super abundant life. Significantly, he was the one major Baroque landscapist. His "Judgment of Paris" (c. 1632–1635) shows all this well. The story is the classical legend of how the goddesses Venus, Juno and Minerva, arguing among themselves as to which was the most beautiful, gave the making of the decision to Paris, who awarded the prize – an apple – to Venus.
Fig 6. Ingenuity and boldness in the handling of traditional forms, together with a sense of movement, are the hallmarks of Baroque architecture as seen on Guarino Guarini's Dome surmounting the Holy Shroud Chapel, Turin (1667–1690).
Baroque was the most dynamic style of art and architecture produced by Western civilization in the seventeenth and eighteenth centuries. Flamboyant and emotional, it arose in Italy shortly before 1600, and by the late seventeenth century had reached most other parts of Europe, taking root especially in Germany and central Europe and spreading to Latin America. All these were Catholic regions with autocratic political regimes, and it is no accident that Baroque flourished there more than in the Protestant and relatively liberal states of northern Europe; its style made it a suitable vehicle for expressing the colorful, doctrines of Catholicism and the political principles of absolute monarchy.
The influence of the Renaissance
Two of the greatest Baroque artists, Peter Paul Rubens (1577–1640) and Gianlorenzo Bernini (1598–1680), were devout Catholics and supporters of absolutism. But it would be wrong to identify Baroque too closely with one particular ideology and social order. It also occurs in modified form, for example, in Britain and The Netherlands. Conversely, in Catholic France under one of the most autocratic governments in Europe there was some resistance to it on both nationalistic and aesthetic grounds.
To understand Baroque as a style it must be seen against the background of the Renaissance, for the Baroque drew heavily on that movement and its successor, Mannerism. On the whole, classical forms were used throughout all three periods, although to a diminishing extent in the final stages of Baroque. ("Classical forms" are primarily the conventions for representing the idealized human body, seen in Greek sculpture, and features of classical architecture such as columns, pediments, and friezes.) Renaissance artists employed classicism with restraint and with the dual aim of achieving clarity and realism. Mannerists abandoned these principles and pursued, instead, extremes of decorativeness, complexity and artifice. Baroque kept the complexity and some of the decorativeness but returned to the realistic style of the Renaissance. Realism, space, and movement were expressed in new ways: in painting, by placing at least the main figures in the foreground; in sculpture, by stressing the roundness of forms and the details of their surface modelling; and in architecture, by using massive columns, overlapping pilasters and elaborate, deeply cut ornament. These features were underlined in all three arts by dramatic use of light and shade. Everywhere – in contrast to both Renaissance and Mannerist practice – there was a tendency for the barriers between the arts and between them and the real world to be broken down.
A rich and dynamic style
Because of its use of swelling forms, plenty of ornament and rich and glowing materials – much marble (often colored), gilt and bronze – the Baroque is a heavy style. But it is also dynamic. Angels fly and saints soar up to heaven; men on the ground gesture and struggle; draperies flutter as if they had a life of their own. Baroque painters loved to depict a crowd; it is not surprising that their supreme large-scale achievement was ceiling decoration (Fig 4). In architecture, vigorous, undulating facades, veal ground plans at Vierzehnheiligen (Fig 3), designed by Balthasar Neumann (1687–1753), and broken pediments tend to replace the straight façades, square or circular ground plans and simple triangular or segmental pediments that were normal during the Renaissance.
Although Baroque artists invented few new forms, they displayed the utmost ingenuity in devising new types of decoration and in twisting traditional forms into unusual shapes. From its reverence for classical art the Baroque derived its erudition and sense of grandeur; from the Renaissance it took its understanding of form and its feeling for color and light and shade; from Mannerism it inherited its love of complexity and decoration. But the mixture was new.
Development and spread of Baroque
The first signs of the new style were a return to realism (Fig 2) and a powerful use of light and shade, exemplified by the Italian painter Michelangelo da Caravaggio (1571–1610) and Annibale Carracci (1560–1609). Dynamism and a mastery of glowing color emerged with Rubens [6], who brought the Baroque to northern Europe after visiting Italy from 1600 to 1609. Then followed the "high Baroque" in Italy, dominated by a trio of artists active in Rome in the second and third quarters of the seventeenth century: the sculptor and architect Bernini (Fig 1), the architect Francesco Borrornini (1599–1667), and the painter and architect Pietro da Co, tuna (1596–1669). After this the initiative passed northwards through the work of Guarino Guarini (1624–1683) in Turin (Fig 6) to central Europe and southern and central Germany, where Baroque architecture reached the ultimate in flamboyance and fantasy. Meanwhile, Baroque painting enjoyed a last, golden revival in eighteenth-century Venice with the ornate work of Giovanni Battista Tiepolo (1696–1770).
In Spain and Portugal, Baroque arrived first in a restrained form in painting and sculpture, achieving both a popular version in religious art and a courtly version in the portraits of Diego de Silva y Velazquez (1599–1660). Spanish and Portuguese Baroque architecture shows a cascade of surface ornament applied to a basic form.

Spanish Baroque architecture commonly has separate units or "blocks" placed on top of each other, the vertical effect so created being emphasized by pepperpot domes, turrets and slender grouped pilasters. The Reloj Tower (1676–1680) of Santiago da Compostella Cathedral, exemplifying this, was designed by Domingo de Andrade. Its encrusted decoration is also typical.