Shakespeare and the Elizabethan theatre
Fig 1. Shakespeare is renowned for his non-dramatic poetry and, more especially, for his sonnets, which were probably written in the 1590s. The identities of the people to whom these poems were addressed ("W H" and the "dark lady") are a mystery. A common theme is death transcended by love and art.
Fig 2. The Globe Theatre stood in this form between 1613 and 1644. It was a tiled and brick-built three-story structure, surrounding an uncovered yard, where the poorer patrons could stand for a penny. It was a small building. With a diameter of only 25 m (83 ft), but with its galleries it could hold 2,000.
Fig 3. Stratford Grammar School was founded in 1427 to provide a free education for the children of local guild members. It was closed in 1547 but it reopened six years later with a charter from Edward VI. The school provided the usual education in the classics, and it is likely that Shakespeare attended lessons here, even though Ben Jonson once jibed that Shakespeare knew "little Latin and less Greek". Otherwise he many have been a page in the house of a local nobleman.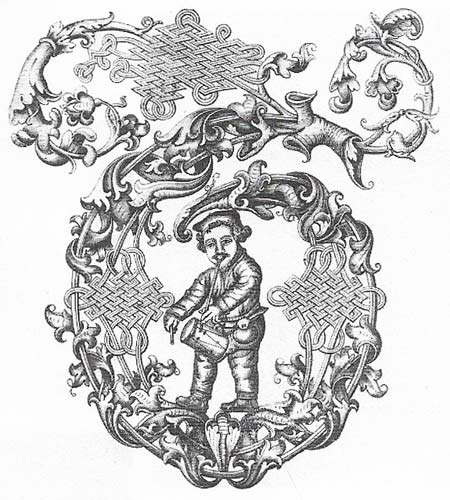 Fig 4. Richard Tarleton, who died penniless in 1588, was the principal comedian of the Queen's Men. He was a great favorite with Elizabeth and he was depicted as Yorick in Hamlet.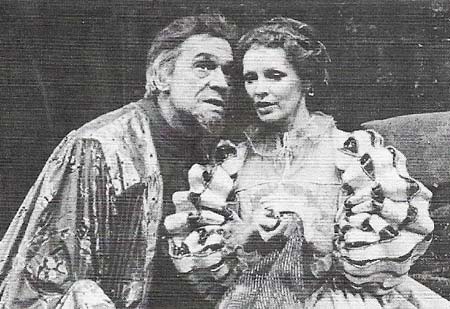 Fig 5. Volpone, one of Ben Johson's finest plays, is shown here in a production at the National Theatre, London. Many of his plays were satirical, although based on classical models. As well as being attached to Henslowe's company, Jonson was a success at the court of James I, and wrote many masques. He admired Shakespeare, although complaining that he wrote by nature rather than art, and he wrote a affectionate tribute to him in the First Folio edition of Shakespeare's works (1623).
Fig 6. First performances of the plays of Shakespeare, Marlowe and Jonson have likely dates ascribed to them in this diagram. Together, these three men elevated the status of the playwright from one of mere scribbler or hack to that of man of letters.
Fig 7. Hewlands, or Anne Hathaway's Cottage the place where Shakespeare's wife was born, is situated in Shottery, 1.5 km (1 mile) from Stratford and is a highly popular tourist attraction. Shakespeare is probably the world's best-known playwright and his works have been translated into most languages.
William Shakespeare (1564–1616) (Fig 1) was born in the prosperous market town of Stratford-on-Avon, Warwickshire, where his father, a glove-maker, served on the local corporation and rose to become bailiff, or mayor. Little is known about William's early life, apart from the fact that in 1582 he married Anne Hathaway (1555–1623) from the nearby village of Shottery (Fig 7). In 1583 they had a daughter, with twins following two years later. The next record of him is in 1592 when Robert Greene, a rival dramatist, complained of him as an "upstart crow", a common actor who had the impertinence to be writing plays.
Actors and theatres
English drama developed from the miracle and morality plays, mostly performed by the craft guilds in the larger towns, although groups of professional actors had begun to play in marketplaces and inn yards. In 1576, James Burbage, a carpenter, built England's first permanent theatre. It was in Shoreditch, London, for the exclusive performance of plays and leased to the acting company of which his two sons, and later Shakespeare, were to be members.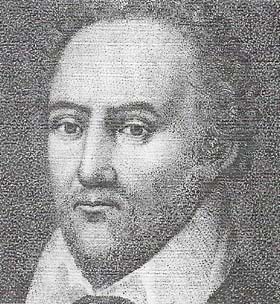 Richard Burbage (c. 1576–1619) was the son of the man who built the first playhouse. All Shakespeare's great tragic roles were written for him, the finest actor of his day.
The life of an early player was far from easy but a permanent theatre was a real ad-vantage for the actors. Unless he had a patron, he could be prosecuted as a masterless man and a vagabond. Shakespeare's company was known as the Chamberlain's Men and, after 1603, as the King's Men. Public theatres were disliked by the Puritan, preachers of the time, and also by the magistrates, who 'saw them as breeding grounds of riots, disease and prostitution. Frequently they were shut down, and strict regulations were imposed on their activities. Many theatres were also used for bear-baiting and prize-fighting as well as the production of dramas.
When the lease of the Shoreditch theatre expired in 1597, the company moved across the Thames to Surrey, where the authorities were less. strict, and there built the famous Globe Theatre (Fig 2). They were followed by their great rival, Philip Henslowe (died 1616), the business manager of the Admiral's Men, who built the Fortune Theatre to the same specifications. In Edward Alleyn he had a fine tragedian – his style is burlesqued by the Player King in Hamlet – and, although there were other companies and other theatres, the competition between the Chamberlain's Men and the Admiral's Men stimulated artistic achievement. Henslowe's company had a success with a play, now lost, about Robin Hood; this was answered by Shakespeare's As You Like It. Shakespeare's constant working relationship with his company makes it highly unlikely that his plays were written by Bacon or by anybody else, as has been suggested.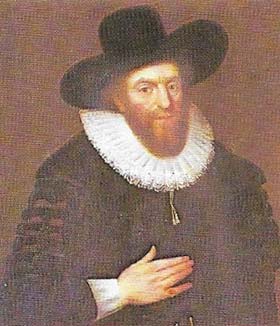 Edward Alleyn (1566–1626) was a great and popular tragedian, equal to Richard Burbage. He joined the Earl of Worcester's players when he was 19, but his best period came when he joined the Admiral's Men, under Philip Henslowe, later his father-in-law. Together they were proprietors of several playhouses. Alleyn retired a wealthy man in 1604, and founded Dulwich College, in London.
Shakespeare's plays
Nobody really knows in which order Shakespeare wrote his plays. There seems to have been an early period of experiment, with varied results; and this was followed by the historical period, in which Shakespeare bade Englishmen look into their past as a guide to their present. After this came the golden comedies of his maturity. With the new century came the tragic period, during which even the comedy has an acrid taste and air of disillusionment. Finally, there are the romances, with their promise of regeneration. These plays were more intimate and less rhetorical, partly because in 1608 the company obtained a new theatre at Blackfriars. This was an indoor, winter theatre, with a much smaller audience capacity and higher prices than at the Globe. By this time, Shakespeare was spending most of his time in Stratford. In 1597 he bought New Place, the handsomest property in Stratford. He earned nothing directly from his plays because they belonged to the company, but his share of the theatre profits made him a relatively wealthy and respected man.
Marlowe and Jonson
The early death of Christopher Marlowe (1564–1593) removed the only rival whose genius might have shone as brightly as Shakespeare's. Marlowe, who worked for the Admiral's Men, was stabbed to death in a tavern brawl at Deptford, leaving behind a rich legacy of drama. The development of blank verse and the use of tragic themes in these plays prepared the theatre for Shakespeare's achievement.
Ben Jonson (1572–1637) (Fig 5), who created the English comedy of humours, was perhaps a little too pedantic and intellectual for the common taste, but in his youth he was as fiery as Marlowe. In 1598 he narrowly escaped the gallows for killing Gabriel Spenser, a fellow actor of Henslowe's company, in a duel.
Among Shakespeare's other rivals, George Chapman (c. 1559–1634), translator of Homer, aspired to philosophical tragedies that are somewhat over-rhetorical. The citizen comedies of Thomas Dekker (c. 1572–c. 1632), Thomas Middleton (1570–1627) and Thomas Heywood (c. 1574–1641), who claimed to have had a hand in 220 plays, were popular with London audiences, drawn from all classes. In the first decade of James In reign, John Webster (c. 1580–1625) produced his powerful tragedies. With the invariably happy endings, the romantic tragi-comedies of Francis Beaumont (c. 1584–1616) and John Fletcher (1579–1625) marked a de
Henry V, as portrayed by Laurence Olivier (1907–1989) in the 1944 film, was an attempt to show life and conditions in the Elizabethan theatre, in addition to presenting this most stirring historical play. It reproduced the open stage, the quick reactions of the audience (some sitting on the stage), the boy actors and the frantic congestion backstage. Later scenes depicted the war in France.