Bizet, George (1838–1875)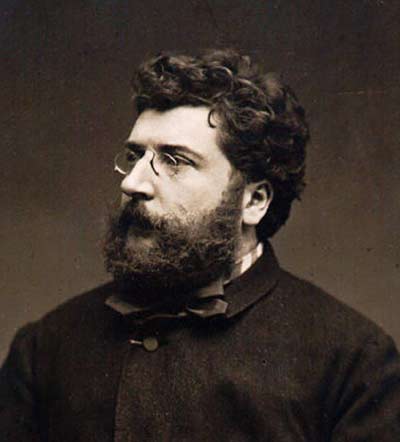 The French composer George Bizet's fame rests largely on just one work – the opera Carmen – but although his output was primarily operatic, several of his instrumental works, particularly the early Symphony in C, the suite Jeux d'enfants (Children's Games), and the incidental music to Alphonse Daudet's play L'Arlésienne (The Girl from Arles), have found a regular place in the repertoire. Bizet studied at the Paris Conservatoire, winning many prizes, including the coveted Prix de Rome in 1857. Among his teachers was the opera composer Jacques Halevy, whose daughter he later married. The coolly classical Symphony in C was written at the age of 17, and in 1857 Bizet's one-act opera Le docteur miracle won joint first prize in a composition competition. He spent the years 1858–1860 in Rome, where he picked up the chronic throat complaint which eventually killed him.
Early set-backs
In 1863 Bizet's first important opera,
Les pêcheurs de perles
(
The Pearl-fishers
), was put on at the Théâtre-Lyrique in Paris. It failed, although the famous duet from Act 1, "Au fond du temple saint", has always been a popular favorite. Afterwards Bizet was obliged to take up hack work from publishers in order to survive financially. Meanwhile he worked on several more operatic projects, none of which achieved success. The colorful Provençal background of Daudet's play
L'Arlésienne
, for which Bizet provided incidental music in 1872, inspired him to find his true metier, and it was the similarly exotic setting and tragic story of Prosper Mérimée's
Carmen
which finally fired his imagination.
Carmen
Bizet's great opera was produced at the Opera-Comique on 3 March 1875. It met with initial hostility, but within the next four years critics and audiences had come to appreciate the subtlety, power, and originality of this vibrant score, and it was being performed all over Europe and in America. Bizet did not live to see its success. He died of a heart attack brought on by rheumatic fever on the night of its 33rd performance, just after the singer playing Carmen had fainted during the famous card-scene in which the gypsy heroine foretells her own death.
Major works
Symphony in C (1855); Les pêcheurs de perles (1863); Jeux d'enfants (1871); Carmen (1874).